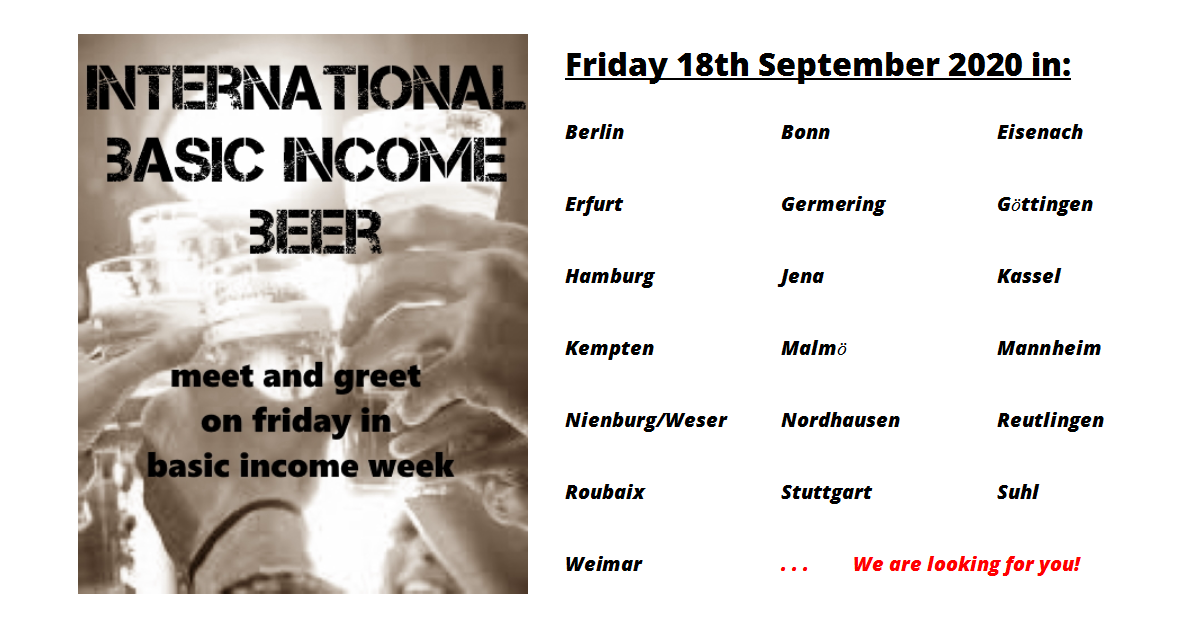 Till now, there are 19 cities who make an 3rd International Basic Income Beer Friday, September 18th, 2020 www.facebook.com/events/940287139643902/ in the 13th International Basic Income Week (Mo-Su 14th-20th September 2020) www.facebook.com/events/519649058814324/ or www.basicincomeweek.org
19 cities:
Berlin, Bonn, Eisenach, Erfurt, Germering, Göttingen, Hamburg, Jena, Kassel, Kempten, Malmö, Mannheim, Nienburg/Weser, Nordhausen, Reutlingen, Roubaix, Stuttgart, Suhl, Weimar.
If there's a basic income Meet&Greet on Friday, September 18th elsewhere, share it using one of the following options:
– Webpage event form www.basicincomeweek.org/ubi/event-form/
– by Mail info(a)basicincomeweek.org
– make an Facebook event and set up Facebook page "Basic Income Week" www.facebook.com/BasicIncomeWeek/ as a Facebook event co-host
– Facebook page messenger Basic Income Week www.facebook.com/BasicIncomeWeek/
– in Facebook event Discussions from www.facebook.com/events/940287139643902/ (especially if you know events from others who are not on Facebook).
So we will find and share it e.g. at www.facebook.com/BasicIncomeWeek/events/
It is also a good time to reactivate or re-establish basic income initiatives through basic income Meet&Greet!
Thank you for being part of #basicincomebeer in #basicincomeweek13