When:
18 September 2018 @ 19:00 – 20:00
2018-09-18T19:00:00+02:00
2018-09-18T20:00:00+02:00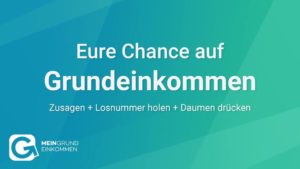 On September 18 at 19:00 we'll be giving away 10 Basic Incomes: 1000€ per month for one year.
You can participate in the raffle by signing up at www.mein-grundeinkommen.de and register for "Verlosung" to receive your winning number. The evening of the raffle will be broadcasted on social media channels such as Facebook, Instagram and Youtube:
Make sure to give us a like on Facebook to stay up to date about all Basic Income raffles in the future and sign up as so-called "Crowdhörnchen"on our website to participate in all future raffles automatically.
https://www.facebook.com/MeinGrundeinkommen/
"Mein Grundeinkommen" is a four-year-old German non-profit that crowdfunds and raffles off unconditional basic incomes of 1.000,- € a month. We are interested in finding out what happens if we, as a society, have the financial resources to focus on our life-goals rather than on existential needs. We would like to encourage people to trust each other more and indulge in more self-determination. We are taking the basic income discussion beyond academia and into our everyday experience.
For all questions, do not hesitate to contact us at support@mein-grundeinkommen.de
and consult our FAQ → www.mein-grundeinkommen.de/projekt/fragen
Good luck!