When:
25 September 2017 – 27 September 2017
all-day
2017-09-25T00:00:00+02:00
2017-09-28T00:00:00+02:00
Where:
Lisbon School of Economics and Management
R. Branca Edmée Marques
1600-276 Lisboa
Portugal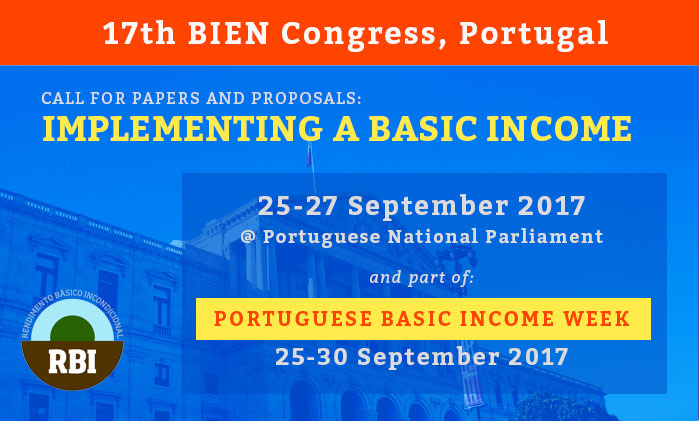 The association Unconditional Basic Income – Portugal, in partnership with the Centre for Ethics, Politics and Society (CEPS), at the University of Minho, the Centre for Research in European, Economic, Financial and Tax Law (CIDEEFF),  the Lisbon School of Economics and Management (ISEG), both at the University of Lisbon, the Portuguese Centre for Global History, at the New University of Lisbon, the party People, Animals, Nature (PAN), and Unconditional Basic Income Europe (UBIE), will organize the 17th  BIEN Congress, from September 25 to 27, 2017.
Today basic income attracts the public's attention as a potentially fair and realistic public policy. We can see this attention as important political parties in Europe have adopted the unconditional basic income as a policy objective. Our 2017 congress will discuss the different aspects of the politics of a basic income under the general theme: Implementing a Basic Income.
See the program here: http://www.rendimentobasico.pt/index.php/17th-bien-congress/program/
Address: Lisbon School of Economics and Management, University of Lisbon, Lisbon, Portugal