Calendar



If you have an event in your region, please use the event-form to send it in:
https://basicincomeweek.org/event-form/
Webmasters can send their .ICS (ICAL) feed link pointing to the events in your local basic income week agenda for embedding into this calendar. (use tag "biweek2018")
more info: http://time.ly/document/user-guide/using-calendar/importing-events-calendars/
User hint
Just choose the right category to see the events in your country, if it is not there: there is work to be done! send them in!
Jun
27
Wed
ETUC/ETUI conference: The World(s) of Work in Transition – Brussel (BE)

@ Hotel Thon Europe


The world is being transformed in ways that will profoundly challenge human society. Trade unions facing these new realities can play an important part in shaping this future. With this in mind a major conference organised by the ETUC and ETUI will bring together globally-renowned experts to debate some of the most pressing issues confronting workers, unions and governments.
The conference will address several megatrends impacting working life. First, the free movement of capital, services and people is altering the allocation of jobs throughout the European internal market. Second, climate change and the energy transition are making many occupations obsolete, while at the same time creating new 'green' jobs in emerging sectors and industries. Third, the demographic transition is changing the structure of the labour force and challenging social security systems. Finally, the digitalisation of the economy is set to disrupt the processes of production, employment and work conditions on an unprecedented scale.
So far, these transitions have been studied and reflected on independently from one another. As a result, conclusions about what the future holds, and the ensuing policy recommendations, vary according to the particular transition in question. What is now needed is for the different projections to be put together and analysed in tandem in order to fully understand the multiple and complex consequences for the world of work. Will all these changes create one new world of work, or many? How can trade unions engage with these developments and what strategies are there to cope with them? What should a new industrial policy look like in the sectors severely affected – such as energy, transport and construction? What skills will be needed and how can trade unions participate to ensure that workers are offered the required training and education?
These are some of the questions the 3rd ETUC/ETUI conference on the future of work will deal with. The overall format – plenaries and smaller panels – has proven very successful and will remain the same. However, added emphasis will be put on enriching the debate and provoking discussion through innovative sessions and greater opportunities for interaction.
If you are interested in attending the conference please send an email to conference@etui.org
Follow the conference via social media at #etuWOW18.
PROGRAMME:
Wednesday 27 June 2018

11:00-13:00 Plenary A: Global transitions and world(s) of work
14:00-15:30

Panel 1 – Inclusive growth: a new, successful agenda for collective bargaining?
Panel 2 – Working conditions in an ageing society
Panel 3 – Company mobility fueled by digitalization and Europeanisation: how can we shore up workers' rights?
Panel 4 – Employment forecasts and the digital, green and demographic transitions
Panel 5 – The impact of the digital transformation on job quality

16:00-16:30 Keynote speech by Valdis Dombrovskis, responsible for the Euro and Social Dialogue, European Commission
16:30-18:00

Plenary B: When the rich and powerful pretend they do not need us.

Thursday 28 June 2018

09:00-10:30

Plenary C: Labour market composition and demographic change: can migrants and new technologies offset population ageing?
Plenary D: Climate change and the transition to a green economy: what does it mean for jobs?

11:00-12:30

Panel 6 – The role of worker's participation in addressing the digitalisation-driven Europeanisation strategies of MNCs
Panel 7 – The link between job quality and innovation: virtuous or vicious circles?
Panel 8 – Working time reduction as a trade union strategy for a changing world of work
Panel 9 – Social protection beyond the basic income
Panel 10 – Industrial policy for the green and digital economies

13:30-15:00

Plenary E: Digitalisation and the new economy: disrupting production networks while tackling climate change?
Plenary F: Globalisation and Europeanisation: European solutions for global problems?

15:30-17:00

Panel 11 – Psychosocial risks: shifting the perspective towards positive values
Panel 12 – The impact of automation on working conditions, health and safety
Panel 13 – Jobs in a clean, future automobile industry
Panel 14 – Youth engagement and the future of work
Panel 15 – Interactive panel: Using visuals to foresee and learn about change

17:15-17:45 Keynote speech by Cecilia Malmström, European Commissioner for Trade
17:45-19:00

Plenary G: A New Economic Approach: what are the shortcomings of the current economic model, and how to fix them?

Friday 29 June 2018

09:00-10:30

Panel 16 – How to integrate the transition challenges in the national trade union research agenda?
Panel 17 – The rise of China as a technology superpower – what does this mean for European jobs?
Panel 18 – The four transitions: what skills do we need, and how do we provide them?
Panel 19 – The future of work: perspectives from the ILO
Panel 20 – Interactive panel: Discussing scenarios for 2030

11:00-11:30

Young trade-unionists' discussion on managing transitions
Visual Harvesting

11:30-13:00

Plenary H: Social Dialogue: how can we create a common agenda for Social Europe?
Download programme: https://www.etui.org/content/download/34280/329137/file/rptAllactivities_bookletA4.pdf
Aug
23
Thu
Nordic UBI-day – Tampere (Finland)
Aug 23 @ 12:00 – 18:30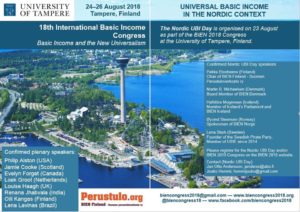 The Nordic day of the BIEN 2018 congress will be held in the afternoon of the 23rd of August in advance of the official opening of the congress. Everyone participating in the congress is invited to take part in this Nordic session, which will be held in English.
The main idea of the Nordic UBI Day session consists of the following thematic outlines:
A representative from each of the five Nordic countries will give a picture of the national situation in relation to the implementation of a basic income. Which are the concrete proposals that are on the political agenda? How large is the potential support for different ideas? How well does a BI fit the relatively universal Nordic welfare systems? What can we learn from the different experiences? There will be both separate presentations and a panel, during which the audience can ask questions and make comments.
Please register for the Nordic UBI Day HERE.

PROGRAM (preliminary, changes possible)
| | |
| --- | --- |
| 12.00 – 12.10 | Opening of the Nordic UBI Day |
| | Prof. emeritus Pertti Koistinen, chair of the BIEN 2018 Congress LOC |
| | |
| 12.10 – 13.10 | Part one: Basic Income (BI) discourses in Finland, and how could BI be applied to |
| | enhance Nordic welfare |
| | Part two: Ethics of UBI by the chair of BIEN Finland Pekka Elonheimo |
| | Part three: Experiences of Finland's UBI experiment by its participant |
| | |
| 13.10 – 13.20 | Comments, questions, answers on Finland's share of the Nordic UBI Day |
| | |
| 13.20 – 13.40 | Denmark. BI-discourses in Denmark, and how could BI be applied to enhance |
| | Nordic welfare |
| | Martin B. Michaelsen, Board Member of BIEN Denmark |
| |   |
| 13.40 – 13.50 | Comments, questions, answers on Denmark's share of the Nordic UBI Day |
| | |
| 13.50 – 14.10 | Coffee break |
| | |
| 14.10 – 14.30 | Iceland. BI-discourses in Iceland, and how could BI be applied to enhance |
| | Nordic welfare |
| | Halldóra Mogensen, Member of Iceland's Parliament and BIEN Iceland |
| |   |
| 14.30 – 14.40 | Comments, questions, answers on Iceland's share of the Nordic UBI Day |
| | |
| 14.40 – 15.00 | Norway. BI-discourses in Norway, and how could BI be applied to enhance |
| | Nordic welfare |
| | Øyvind Steensen, Spokesman of BIEN Norge |
| |   |
| 15.00 – 15.10 | Comments, questions, answers on Norway's share of the Nordic UBI Day |
| | |
| 15.10 – 15.30 | Break |
| | |
| 15.30 – 15.50 | Sweden. BI-discourses in Sweden, and how could BI be applied to enhance |
| | Nordic welfare |
| | Lena Stark, Founder of Swedish basic income party, Member of UBIE since 2014 |
| | |
| 15.50 – 16.00 | Comments, questions, answers on Sweden's share of the Nordic UBI Day |
| | Comments on the previous speeches |
| | |
| 16.00 – 16.30 | Break |
| | |
| 16.30 – 17.15 | Speech of Rutger Bregman |
| | |
| 17.15 – 17.45 | Interview to promote Rutger Bregman's new book |
| | |
| 17.45 – 18.30 | Book selling and autographs in the lobby outside the auditorium |
The representative speakers are asked to submit their abstracts, photos and biographical notes via this form
For further information, please contact Jan Otto Andersson (janderss@abo.fi) or Jouko Hemmi (jouko.hemmi@hotmail.fi), members of the local organising committee  of BIEN 2018 Congress.
Aug
28
Tue
Places for People: Liveable, Inclusive, and Liveable Regions – Cork, Ireland


The congress theme is "Places for People: Liveable, Inclusive, and Liveable Regions", 'but the congress covers all fields in Regional Science. In addition to the general themes, a limited set of Special Sessions will be organized. The Special Sessions address specific and topical themes in Regional Science.
S50 Social and Spatial Inequalities and Basic Income Policies
A basic income (also known as universal basic income) is an income paid unconditionally to every citizen or resident of a country. It is a form of guaranteed minimum income, but distinct from minimum incomes that exist in some countries because it is paid irrespective of income from other sources without a requirement to work. It is often argued that the origins of the idea date back to 18th century and the work of Thomas Paine who advocated the creation of a social insurance scheme for the aged and for young people just starting out in life, which would be paid from a national fund accumulated for this purpose.
In recent years there has been a relatively small but rapidly growing number of academic scholars and social activists (and relevant networks and movements such as the Basic Income Earth Network – see http://basicincome.org ) who have been advocating Basic Income policies and there is currently a lively debate on its feasibility and desirability.
There has also been an implementation of relevant policy initiatives, trials and experiments across the world with recent efforts in Finland and Canada amongst the most notable examples, but also the on-going social assistance experiments conducted by several Dutch municipalities and discussions of a possible adoption of Basic Income in Scotland. Although there has been a considerable number of relevant feasibility studies, there has been very limited analysis of the possible spatial implications of such policies.
This special session will consider the geographical implications of Basic Income policies, including issues pertaining to social justice, labour market supply and demand implications and local and regional multiplier effects.
Convenor(s): Dimitris Ballas: Arjen Edjes
About the congress
Places matter for economic and social development. In an increasingly globalized world, people are looking to local and regional factors to optimize competitive advantage, inclusivity, and well-being. The ERSA congress "Places for People: Innovative, Inclusive and Liveable Regions" puts people back at the heart of regional and urban development to examine how spatial and regional analysis can work to improve people's lives. The Congress will host a large variety of themes in spatial, regional, and urban economics, economic geography, and regional policy topics like local governance and institutions.
With approximately 800 participants every year from all continents, the ERSA congresses have become the largest academic conferences in regional science worldwide. There is simply no better place to present your research results, network and/or exchange, find out about new developments in the field, and just to meet colleagues and friends.
https://ersa.eventsair.com/QuickEventWebsitePortal/58th-ersa-congress-cork-28-31-august-2018/ersa2018