Calendar


If you have an event in your region, please use the event-form to send it in:
https://basicincomeweek.org/event-form/
At the moment, there are 3 each one worldwide synchronized Basic Income Week actions and projects:
until Sunday 22nd September 2019 "Basic Income Week Campaign":
overlay your Facebook profile picture www.facebook.com/BasicIncomeWeek/posts/995055477506728/ or direct www.facebook.com/profilepicframes/?selected_overlay_id=666500437198081
at Friday 20th September 2019 "2nd International Basic Income Beer – [City/Location]":
Since 2018 a worldwide synchronized regular table every year on the Friday evening of the International Basic Income Week where the local basic income groups meet in as many places as possible worldwide in a relaxed atmosphere for food & drink in cafes, bars, pubs, restaurants, etc. to exchange, network and at the same time on the topic basic income Interested local information materials/flyer and give speech & answer.
This can be done from small mini basic income regular table in small villages with 3 people and a simple sign up to large basic income regular table (as a small mini basic income fair) with information tables, speeches, presentations, free food & drinks, live Music/Band, Social Media Greetings, Live Switch to basic income regular tables in other cities and countries.
It is also a good time to reactivate or re-establish basic income initiatives through basic income regular tables!
(Possibly change/translate the title in your language e.g. german "2. Internationaler BGE-Stammtisch – [Stadt/Region]".)
E.g.:
Berlin (Germany), "2. Internationaler BGE-Stammtisch – Berlin" www.facebook.com/events/727312807612798/ or www.grundeinkommenberlin.wordpress.com/infos/#2
at Saturday 26st September 2019 "Basic Income March – [City/Location]":
"The Basic Income March, led by Basic Income NYC, is set for September 26, 2019. It might be accompanied by Basic Income Marches in other cities on the same day." www.basicincome.org/news/2019/07/a-march-for-basic-income-will-take-place-in-new-york-city-september-21-2019/
due to time organizing the date is moved forward to 26thseptember, next your we hope to have a sychronized event within Basic Income Week
E.g.:
New York City (USA), www.facebook.com/events/2475965342623015/ or www.facebook.com/BasicIncomeMarch/ or www.basicincomemarch.com
Please simple set-up Facebook page Basic Income Week as co-host to your Facebook event and we will see and add your event to our Facebook page and list over here. https://www.facebook.com/events/310298613181576
Sep
19
Sat
Basic Income Family Picknick in The Park – Budapest – 19 sept. 2015

@ A Városligeti
Sep 19 @ 13:00 – 18:00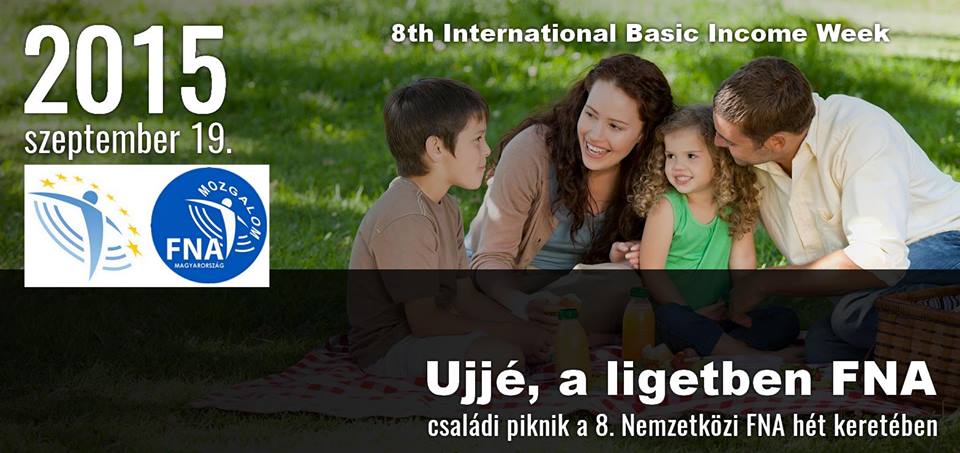 2015. szeptember 19.-én 13h-tól 18h-ig a Városligetbe vár mindenkit az FNA-Mozgalom!
Esemény: https://www.facebook.com/events/620697668033904
A 8. Nemzetközi Feltétel Nélküli Alapjövedelem (FNA) Hét
https://www.facebook.com/events/421208298066517/
keretében az egyik magyarországi eseményként kerül megrendezésre az FNA-Mozgalom nevében, melyre MINDENKIT SZERETETTEL VÁRUNK.
Tavaly szeptember 20.-án tartottunk a civil, informális Mozgalom jegyében rendezvényt, akkor is a Nemzetközi hét apropóján. Idén több aktivista bekapcsolódott a szervezésbe, így reményeink szerint tartalmasabb és főként érdekesebb programmal várhatunk benneteket, melyben a gyerekekre is gondoltunk:
13h -eseménymegnyitó
Folyamatos programok, amikre 13h-tól 17h-ig bármikor bekapcsolódhatsz:
– Kvíz játék (kérdések-válaszok külön gyerekeknek is)
– Gyereksarok (szolidaritási játékok)
– Flash mob (közös éneklés)
– Beszélgess velünk az FNA-ról (beszélgetősarok)
– Mikrofonpróba (amennyiben a kihangosítást sikerül megoldanunk, bárki jelentkezhet, max 5 perces "előadásra")
17.30- a játékok eredményhirdetése
A program még változhat a csatlakozó civil szervezők(önkéntes aktivisták), illetve szervezetek jóvoltából. 😉
Felkérésünk szervezeteknek:
Várjuk más (formális vagy informális) szervezetek bekapcsolódását is akár szervezőként (programokkal), akár résztvevőként (képviseltetve magukat), hogy a majális hangulat biztosítva lehessen. Járuljatok hozzá, hogy egy tényleg emlékezetes szabadidős délutánt, érdekes és tartalmas családi-pikniket találjanak a Városligetbe látogatók. Kérjük, a szervezetek részvételüket jelezzék a Mozgalom Facebook oldalán üzenetben.
OSZD MEG, és hívd meg ismerőseidet is!