Calendar


If you have an event in your region, please use the event-form to send it in:
https://basicincomeweek.org/event-form/
At the moment, there are 3 each one worldwide synchronized Basic Income Week actions and projects:
until Sunday 22nd September 2019 "Basic Income Week Campaign":
overlay your Facebook profile picture www.facebook.com/BasicIncomeWeek/posts/995055477506728/ or direct www.facebook.com/profilepicframes/?selected_overlay_id=666500437198081
at Friday 20th September 2019 "2nd International Basic Income Beer – [City/Location]":
Since 2018 a worldwide synchronized regular table every year on the Friday evening of the International Basic Income Week where the local basic income groups meet in as many places as possible worldwide in a relaxed atmosphere for food & drink in cafes, bars, pubs, restaurants, etc. to exchange, network and at the same time on the topic basic income Interested local information materials/flyer and give speech & answer.
This can be done from small mini basic income regular table in small villages with 3 people and a simple sign up to large basic income regular table (as a small mini basic income fair) with information tables, speeches, presentations, free food & drinks, live Music/Band, Social Media Greetings, Live Switch to basic income regular tables in other cities and countries.
It is also a good time to reactivate or re-establish basic income initiatives through basic income regular tables!
(Possibly change/translate the title in your language e.g. german "2. Internationaler BGE-Stammtisch – [Stadt/Region]".)
E.g.:
Berlin (Germany), "2. Internationaler BGE-Stammtisch – Berlin" www.facebook.com/events/727312807612798/ or www.grundeinkommenberlin.wordpress.com/infos/#2
at Saturday 26st September 2019 "Basic Income March – [City/Location]":
"The Basic Income March, led by Basic Income NYC, is set for September 26, 2019. It might be accompanied by Basic Income Marches in other cities on the same day." www.basicincome.org/news/2019/07/a-march-for-basic-income-will-take-place-in-new-york-city-september-21-2019/
due to time organizing the date is moved forward to 26thseptember, next your we hope to have a sychronized event within Basic Income Week
E.g.:
New York City (USA), www.facebook.com/events/2475965342623015/ or www.facebook.com/BasicIncomeMarch/ or www.basicincomemarch.com
Please simple set-up Facebook page Basic Income Week as co-host to your Facebook event and we will see and add your event to our Facebook page and list over here. https://www.facebook.com/events/310298613181576
Sep
21
Thu
Book launch and debate with Rutger Bregman – Oslo (NO)

@ Kulturhuset
Sep 21 @ 17:30 – 18:45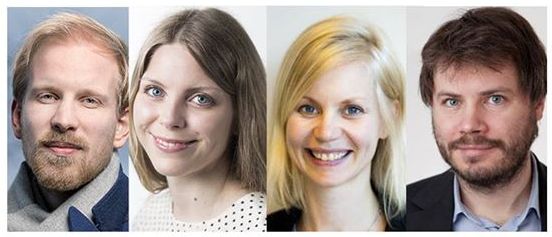 Boklansering og debatt: Borgerlønn – utopi eller realisme?
Historian Rutger Bregman writes: When traditional left and right policies do not respond to the great challenges of today, it's time to think again. In his book Utopia for Realists, he presents three basic ideas – basic income, 15 hours work week and open borders. He use research and examples to show that people would rather have more free time than higher wages. Bregman is not alone. Throughout the world, we are deeply concerned about the fact that the workplaces are being taken over by machines.
Is basic income and more leisure the solution? How will this effect democracy and power distribution, both in and between countries? We meet Bregman and his ideas and take the debate about what is right for us in Norway.
You meet:
Rutger Bregman, author of the book Utopia for realists
Nils August Andresen, editor of Minerva
Ida Søraunet Wangberg, researcher in Manifest Analysis
Sigrun Aasland, head of department in Tankesmien Agenda
Welcome to book launch with Rutger Bregman, in collaboration with Spartacus Forlag, at Kulturhuset, the main room, Thursday 21 September.
Address: Kulturhuset
Youngs gate 6, 0181 Oslo, Norway
https://www.facebook.com/events/1411344512325998
Sep
22
Fri
A perfect world is realistic – Stavanger (NO)

@ Kapittel
Sep 22 @ 13:00 – 14:00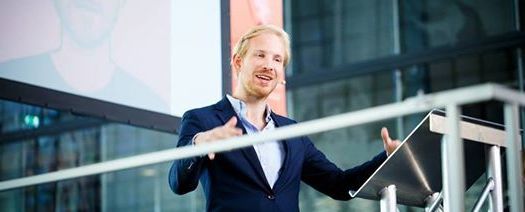 En perfekt verden er realistisk 
We live in a time of unprecedented upheaval, with questions about the future, society, work, happiness, family and money, and yet no political party of the right or left is providing us with answers. Rutger Bregman, a bestselling Dutch historian, explains that it needn't be this way. Bregman shows that we can construct a society with visionary ideas that are, in fact, wholly implementable. Every milestone of civilization – from the end of slavery to the beginning of democracy – was once considered a utopian fantasy. New utopian ideas such as universal basic income and a 15-hour work week can become reality in our lifetime.
Tickets for sale from the 20th of August.
Sep
21
Fri
Internationaler BGE-Stammtisch – Bedingungsloses Grundeinkommen (BGE) in Berlin

@ Restaurant Cancún
Sep 21 @ 18:00 – 23:59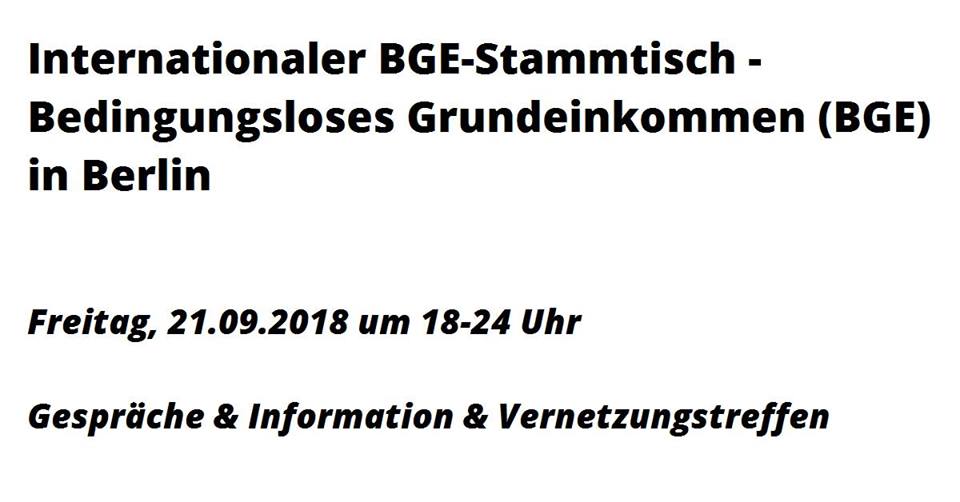 Gespräche & Information & Vernetzungstreffen "Internationaler BGE-Stammtisch" am Thema Bedingungsloses Grundeinkommen (BGE) Interessierten in Berlin und insbesondere die ca. 40 berliner BGE-Gruppierungen (BGE-Initiativen, BGE-Parteien, andere BGE befürwortende Organisationen) eingeladen, sich in lockerer Atmosphäre zu treffen, trinken, essen und auszutauschen sowie bzgl. laufender und zukünftiger BGE-Projekte auf den aktuellen Stand zu bringen.
Der Eintritt ist frei. Eine Anmeldung ist nicht erforderlich.
Treffen ist am exikanischen Restaurant Cancún am Alexanderplatz, Rathausstr. 5-13, 10178 Berlin (Alexanderplatz links neben Rotes Rathaus, im Restaurant drinnen linke Seite hinten, www.cancun-restaurant.de bzw. www.facebook.com/cancunalexanderplatz/ )
Die Getränke zahlt jeder Gast selber, Trinkpflicht besteht nicht.
Ein kostenloses warmes Buffet in Form verschiedener warmer Fingerfood-Platten (sowohl Fleisch als auch Vegetarisch) wird über den Abend verteilt in begrenztem Umfang gestellt.
Man kann kommen und gehen wie man möchte. Aufgrund der Vielfältigkeit der BGE-Interessierten und BGE-Gruppierungen wird um gegenseitigen Respekt vor Ort nicht nur bzgl. der vielfältigen Detail-Ansichten zur Einführung und Umsetzung eines BGE sondern auch um andere Ansichten, die nichts mit dem BGE zu tun haben, gebeten.
Die ca. 40 berliner BGE-Gruppierungen (BGE-Initiativen, BGE-Parteien, andere BGE befürwortende Organisationen) siehe Informationsblatt "Informationsquellen und Anlaufstellen in Berlin zum Thema Bedingungsloses Grundeinkommen (BGE)" als pdf Downloadbar https://grundeinkommenberlin.files.wordpress.com/2018/08/ini-bge-berlin-infos-2018-08-05.pdf bzw. auf www.grundeinkommenberlin.wordpress.com/infos/ bzw. als 'Story' auf www.facebook.com/pg/InitiativeGrundeinkommenBerlin/about/
An die berliner BGE-Gruppierungen gerichtet:
Infomaterial, Flyer und ähnliches zum Mitnehmen sowohl zur BGE-Gruppierung selbst als auch zu ihrem BGE sowie aktuellen und zukünftigen eigenen BGE-Projekten sind ausdrücklich erwünscht und können mitgebracht und auf vorbereitete Tische ausgelegt werden.
Ab ca. 19 Uhr können kurze freiwillige improvisierte Reden/Ansprachen zum Thema BGE in Berlin gehalten werden (jeder wie er will).
Wer etwas kurzes zum Thema BGE (wenn möglich ohne Ton) präsentieren bzw. als Art Bildschirmschoner laufen lassen möchte, es gibt einen relativ großen FlatTV (siehe der abgegrenzte Bereich rechts neben der Schwingtür www.restaurant-cancun.de/files/alex-2.swf) mit HDMI-Anschluss zum eigenen dann mitzubringenden Laptop. (Ein normales 5m-HDMI-Kabel wird vor Ort sein.)
Die 10 berliner BGE-Initiativen (alphabetisch sortiert):
Insofern die BGE-Initiativen (oder das Restaurant) als 'Gastgeber' in der Facebook-Veranstaltung erscheinen bedeutet dies nicht, dass diese Veranstalter im rechtlichen Sinne oder verantwortlich für diese offene Veranstaltung sind. Es ist auch nicht garantiert, dass diese (durchgängig) anwesend sein werden.
Siehe auch auf www.facebook.com/events/2179805578936627/
—
'Bedingungsloses Grundeinkommen' im Sinne der Definition des Netzwerk Grundeinkommen www.grundeinkommen.de/grundeinkommen/idee/ mit den 4 Kriterien:
"Ein Grundeinkommen ist ein Einkommen, das eine politische Gemeinschaft bedingungslos jedem ihrer Mitglieder gewährt. Es soll
die Existenz sichern und gesellschaftliche Teilhabe ermöglichen,
einen individuellen Rechtsanspruch darstellen sowie
ohne Bedürftigkeitsprüfung und
ohne Zwang zu Arbeit oder anderen Gegenleistungen garantiert werden."
Diese Veranstaltung findet im Rahmen der 11. Internationalen Woche des Grundeinkommens (Basic Income Week) Mo-So 17.-23.09.2018 statt.
#Grundeinkommenswoche #basicincomeweek
www.woche-des-grundeinkommens.eu
www.basicincomeweek.org
www.facebook.com/events/197189157604064/