Calendar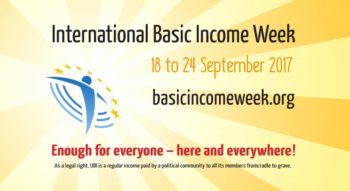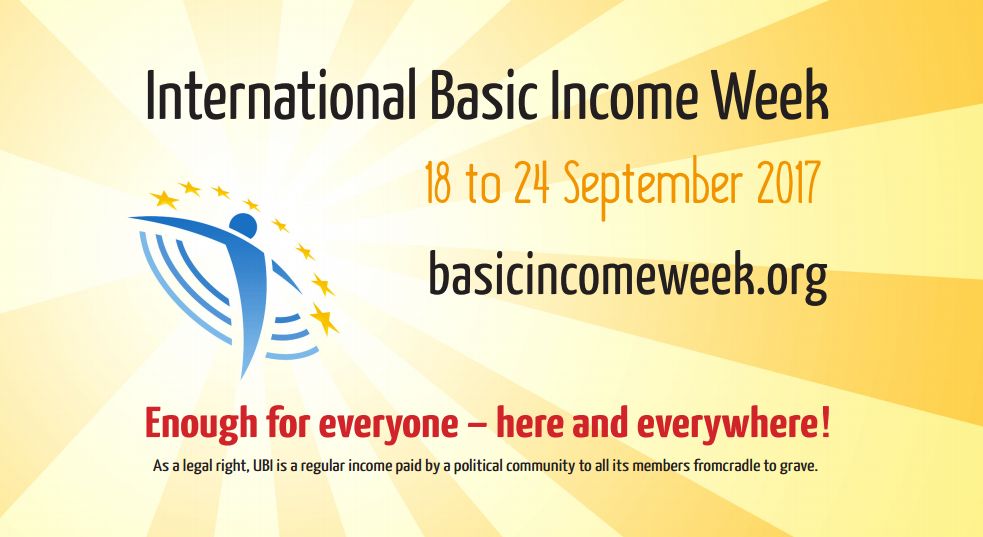 If you have an event in your region, please use the event-form to send it in:
https://basicincomeweek.org/event-form/
Webmasters can send their .ICS (ICAL) feed link pointing to the events in your local basic income week agenda for embedding into this calendar. (use tag "biweek2017")
more info: http://time.ly/document/user-guide/using-calendar/importing-events-calendars/
User hint
Just choose the right category to see the events in your country, if it is not there: there is work to be done! send them in!
May
24
Thu
North American Basic Income Guarantee Congress 2018

@ McMaster University

The Next North American Basic Income Guarantee Congress will be will take place at McMaster Unversity in Hamilton, Ontario from May 24-27, 2018.
NABIG 2018 is being organized by a Canadian-American team including representatives of Basic Income Canada Network, U.S. Basic Income Guarantee Network, McMaster University, and the Hamilton Poverty Roundtable
Save the dates! We are very excited to announce that the 17th Annual North American Basic Income Congress (NABIG) will be held May 24-27 at McMaster University in Hamilton, Ontario!
NABIG is held alternately in the United States and Canada. Highlights from the June 2017 congress in New York City included speakers such as Facebook co-founder Chris Hughes, international labour leader Andy Stern, and renowned scholar and activist Frances Fox Piven. NABIG 2018 will focus on:
• making basic income a reality, for example, through research, policy development and pilots as well as strategies for mobilizing support
• the converging paths leading to basic income as a solution to multiple concerns connected to health, human rights, the future of work, poverty, inequality, economic and environmental sustainability, democracy and more. NABIG is a great forum for learning, sharing and networking among people from all walks of life.
"The idea of a universal basic income is gaining traction and I am pleased that next year's NABIG, which will bring together hundreds of advocates, academics and government representatives from across the continent, is being held in Hamilton," remarks Hamilton's Mayor, Fred Eisenberger. "Our City is increasingly becoming a focal point for progressive social policy discussion."
We at BICN and the U.S. Basic Income Guarantee Network are thrilled that McMaster University, the Hamilton Roundtable for Poverty Reduction, Low Income Families Together (in Toronto), and others are collaborating with us to host a 2018 Congress that is shaping up to be an important and influential event. Support is coming from a wide range of organizations, places and people, such as municipal leaders. And we are lining up NABIG 2018 speakers now, like Dr. Evelyn Forget, the University of Manitoba researcher who unearthed such powerful findings from the 1970s Manitoba Mincome experiment in basic income.
Please save the date and watch for further announcements about key speakers and a Call for Participation later this fall, followed by registration details. We hope to see you at McMaster University and in Hamilton to be part of NABIG 2018!
Jun
1
Fri
Basic Income: the Return of Robin Hood -European Youth Event – Strasbourg #EYE2018

@ European Parliament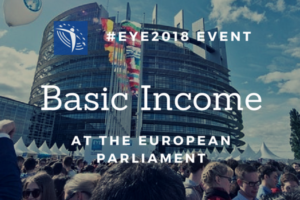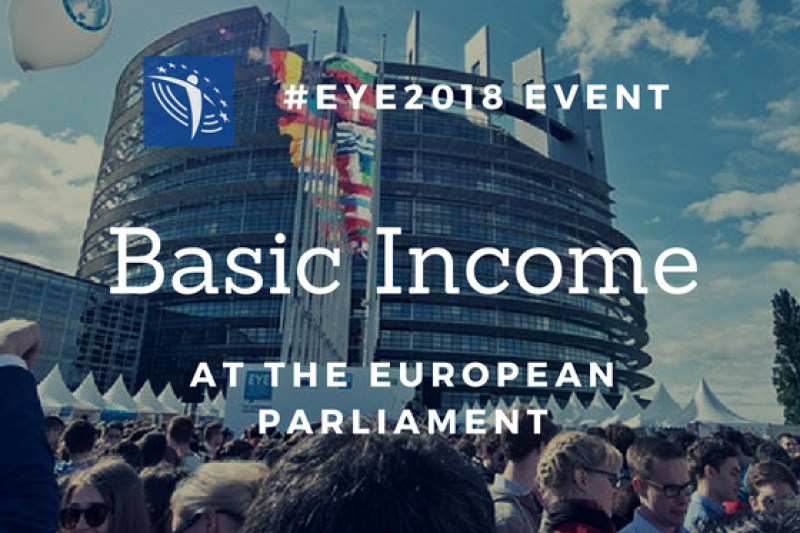 Every year the EU parliament organises a huge event called European Youth Event (EYE2018) in Strasbourg. It is a unique opportunity for young Europeans to meet and make their voices hear
Unconditional Basic Income Europe (UBIE) has put together a great delegation to the European Parliament's European Youth Event this June in Strasbourg. 20 people from 10 different countries are ready to carry our vision to MEPs and 5000 other delegates from all over Europe. They will also participate in a roundtable discussion 'Basic Income: the Return of Robin Hood?'
We need funding, please help: https://www.gofundme.com/ubie-eye2018
Our programme
Distribution of a booklet "UBI proposals for Europe" (if funded).
proposing meetings with MEPs
1 -2 June
Participation in EYE2018 activities
One UBIE speaker at the
"Basic Income: Return of Robin Hood" roundtable
3 June
Internal workshop "Strategies to implement a European Basic Income", opened to the public
Did you know that robots paying us a basic income could have been possible in 2017? 
MEP Mady Delvaux proposed a BI based on robot-tax. Only 14 votes were missing! The idea was to compensate the impact of automation on the European job market.
This is not our only proposal. UBIE is a non-profit organisation that aims at the implementation of the basic income in Europe and beyond. Euro-dividend, European wide basic income for children, Agrarian Basic income our Eco-basic income, the roads for a full basic income are plenty. In Strasbourg, we want to continue the dialogues with decision-makers and make new alliances with youth groups.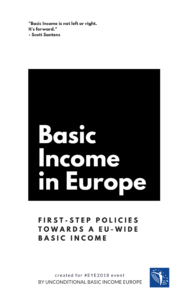 20 participants from 10 nationalities
Whether they are students, UBI researchers, UBI advocates or just new members discovering the world of EU advocacy, together they will increase their EU citizenship thanks to participation at this event. We hope they will network with advocates from other causes and bring something new back in their own countries. We also hope they will encourage their national groups to take Europe into account in their strategies for a social and fairer society.