Calendar



If you have an event in your region, please use the event-form to send it in:
https://basicincomeweek.org/event-form/
Webmasters can send their .ICS (ICAL) feed link pointing to the events in your local basic income week agenda for embedding into this calendar. (use tag "biweek2018")
more info: http://time.ly/document/user-guide/using-calendar/importing-events-calendars/
User hint
Just choose the right category to see the events in your country, if it is not there: there is work to be done! send them in!
Aug
23
Thu
18th BIEN congres – Tampere Finland 23/24 august 2018

@ University of Tampere
Tampere Finland 18. BIEN congres is 23 en 24 august 2018.
Basic Income and the New Universalism:
Rethinking the Welfare State in the 21st Century
A joint proposal by BIEN Finland (Perustuloverkosto) and the University of Tampere
(UTA) to hold the next BIEN Congress in Finland.
BACKGROUND
In the 20th century the welfare states were successful in reducing poverty, building trust
between different socio-economic groups and providing more equal opportunities for all.
Today, welfare state structures reflect the societies of the past rather than those of the
future. Welfare state institutions have not been able to regenerate in line with changed
labour market conditions and lifestyles, and are tightly intertwined with unsustainable
economic structures at local and global levels. The basic income proposal offers a way
out of the current conundrum with a prospect of rethinking and reinvigorating the
ambitions of the welfare state.
Societal reforms such as a basic income require social vision and political will, but also a
sober evaluation of the expected effects and challenges to be overcome. Recent years
have seen an exponential increase in media and policy around the basic income idea,
followed by concrete initiatives to study basic income design and implementation across
the world.
The congress plans to build on this growing interest in basic income by inviting activists,
stakeholders, policymakers, students and researchers to discuss the promises of the basic
income against the background of the need for a "new universalism". The proposed
theme for our conference is: Basic Income and the New Universalism: Rethinking the
Welfare State in the 21st Century.
The congress will focus on three main streams.
Knowledge and evidence: what do we know about how basic income really works,
and how do we advance our understanding of the basic income model?
Policy design and implementation: how does basic income interact with existing
(welfare state) policies and institutions, and which social and policy changes are
needed to make basic income work in practice?
Politics: what are the challenges for pushing basic income onto the policy agenda.
and how can these be overcome?
These three streams encompass a large variety of specific topics to be covered in
presentations and discussions. Examples include: How does an unconditional basic
income change the nature and form of current welfare state institutions and regimes?
How will a well-functioning basic income scheme interact with existing policies? What
are the most promising avenues to institute a basic income? What can we learn from
planned and ongoing pilot schemes about basic income? How can universalism be
extended to larger regional and global areas, and what challenges does this pose for the
basic income idea?
Throughout the congress, we aim to accommodate a wide range of perspectives and
approaches and we will employ different presentation formats to further genuine debate
and discussion. As the basic income idea is gaining popularity in Finland and elsewhere,
we expect strong contributions from academic researchers, citizen activists, policy
experts and decision-makers as well as significant public attention and media interest in
our event.
PRACTICALITIES
Venue:
The congress will be held at the University of Tampere (UTA) and several venues within
walking distance.
Tampere is a city of about 225 000 inhabitants located in Southern Finland, 172
kilometres from the capital Helsinki. There are regular train and bus connections from
Helsinki-Vantaa airport and from Helsinki city centre. Tampere also has its own airport
with many international connections.
UTA is the leading university in social sciences and has a long experience and good
reputation in organising international conferences. The university has confirmed its
willingness to supply us with the required conference facilities. We are aiming for 200-
300 participants in total, which is easily accommodated by the university facilities.
Organising committee:
The lead organisers are BIEN Finland (Basic Income Network) and the School of Social
Sciences and Humanities at the University of Tampere. In addition we will cooperate
with the Research Department of KELA (The Social Insurance Institution) and the Basic
Income Experiment Consortium. The lead organisers have a track record of collaborating
in projects and putting together public events.
Other possible partners include: Finnish Centre for Pensions, Social Policy Association in
Finland, Finnish Society for Political Economy Research, LabourNet (The Finnish
Doctoral Program on Labour and Welfare Studies).
The organising team include:
BIEN Finland: Simo Ruottinen, Markku Ikkala, Jukka Peltokoski, Petri Flander.
Academics: Pertti Koistinen, Johanna Perkiö, Jurgen De Wispelaere, Jorma Kalela, Jan
Otto Andersson, Jouko Kajanoja.
Basic Income Experiment Consortium: Olli Kangas and others
Board of advisors from civil society, policy and academia TBA
Resources and funding support:
In addition to supplying conference facilities, the School of Social Sciences and
Humanities has made a promise to contribute to the BIEN2018 Congress financially and
offer further conference assistance. The university will also be able to supply cheap
accommodation facilities.
We have also been in touch with various interest groups and funders, and received a
principled green light for cooperation. If it is agreed BIEN2018 Congress will be held in
Finland, we will immediately start negotiating with relevant actors and interest groups on
financing, conference organisation, conference venue, accommodation, etc.
BIEN Finland has many local contacts in Tampere and will organise activist/political
sessions attracting broader audiences and journalists, as well as an enjoyable evening
program. We can easily find volunteers among the university students and activists of
BIEN Finland's network to ensure that the conference runs well.
WHY FINLAND AS THE NEXT CONGRESS VENUE?
Finland is an interesting site for the BIEN 2018 congress for several reasons.
Finland belongs to the family of Nordic countries, which have a long tradition and
commitment to universalistic ideas in social and welfare policies. The Nordic
countries are often considered the birthplace of the universal welfare state. This
would be the first time a BIEN Congress is held in one of the Nordic countries and
we look forward to collaborating with our colleagues in Denmark, Sweden and
Norway to make this a very successful event. As has become tradition for BIEN
congresses, we propose to host a "local day" focused on basic income in the Nordic
welfare state before the official congress, offering a forum for activists and policy
makers in Denmark, Sweden, Norway and Finland to exchange their experiences.
The idea of basic income has featured in Finnish academic and political discussion at
regular intervals already since the 1970's, and in 2012 Finnish basic income activists
launched Initiative which didn't gather sufficient votes but produced a lot of media
attention. In recent years the basic income idea is regularly discussed in public
opinion and policy discussions, often promoted by BIEN Finland.
Basic income is also a significant subject of academic interest in Finland, and
especially at the University of Tampere (UTA). UTA hosted the first basic income
course for social policy students and several PhD on basic income are ongoing or
have been completed within the same department. UTA is also a partner in the Basic
Income Experiment Consortium. The School of Social Sciences and Humanities
plans to organise a special expert workshop focused on basic income research
challenges as part of the BIEN Congress.
Most importantly, Finland occupies a unique place of being the first country to plan a
nation-wide basic income experiment. The Finnish government has committed to a
large field experiment that will start in January 2017 and run for two years. The
congress would happen at a time when we are already expecting preliminary results
and this makes for a particularly timely event. While other experiments are also being
prepared, none are as advanced as Finland.
More information and contact info:
• Simo Ruottinen, chair of BIEN Finland. Email: simo[a]perustulo.org
• Pertti Koistinen, Professor of Social and Labour Market Policies, University of
Tampere. Email: pertti.koistinen[a]uta.fi
This text was taken from http://www.basicincome.org/wp-content/uploads/2016/06/7._BIENFinland2018proposal.pdf
Nordic UBI-day – Tampere (Finland)
Aug 23 @ 12:00 – 18:30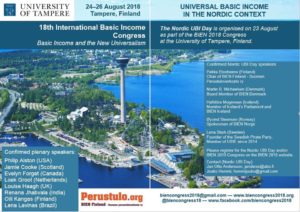 The Nordic day of the BIEN 2018 congress will be held in the afternoon of the 23rd of August in advance of the official opening of the congress. Everyone participating in the congress is invited to take part in this Nordic session, which will be held in English.
The main idea of the Nordic UBI Day session consists of the following thematic outlines:
A representative from each of the five Nordic countries will give a picture of the national situation in relation to the implementation of a basic income. Which are the concrete proposals that are on the political agenda? How large is the potential support for different ideas? How well does a BI fit the relatively universal Nordic welfare systems? What can we learn from the different experiences? There will be both separate presentations and a panel, during which the audience can ask questions and make comments.
Please register for the Nordic UBI Day HERE.

PROGRAM (preliminary, changes possible)
| | |
| --- | --- |
| 12.00 – 12.10 | Opening of the Nordic UBI Day |
| | Prof. emeritus Pertti Koistinen, chair of the BIEN 2018 Congress LOC |
| | |
| 12.10 – 13.10 | Part one: Basic Income (BI) discourses in Finland, and how could BI be applied to |
| | enhance Nordic welfare |
| | Part two: Ethics of UBI by the chair of BIEN Finland Pekka Elonheimo |
| | Part three: Experiences of Finland's UBI experiment by its participant |
| | |
| 13.10 – 13.20 | Comments, questions, answers on Finland's share of the Nordic UBI Day |
| | |
| 13.20 – 13.40 | Denmark. BI-discourses in Denmark, and how could BI be applied to enhance |
| | Nordic welfare |
| | Martin B. Michaelsen, Board Member of BIEN Denmark |
| |   |
| 13.40 – 13.50 | Comments, questions, answers on Denmark's share of the Nordic UBI Day |
| | |
| 13.50 – 14.10 | Coffee break |
| | |
| 14.10 – 14.30 | Iceland. BI-discourses in Iceland, and how could BI be applied to enhance |
| | Nordic welfare |
| | Halldóra Mogensen, Member of Iceland's Parliament and BIEN Iceland |
| |   |
| 14.30 – 14.40 | Comments, questions, answers on Iceland's share of the Nordic UBI Day |
| | |
| 14.40 – 15.00 | Norway. BI-discourses in Norway, and how could BI be applied to enhance |
| | Nordic welfare |
| | Øyvind Steensen, Spokesman of BIEN Norge |
| |   |
| 15.00 – 15.10 | Comments, questions, answers on Norway's share of the Nordic UBI Day |
| | |
| 15.10 – 15.30 | Break |
| | |
| 15.30 – 15.50 | Sweden. BI-discourses in Sweden, and how could BI be applied to enhance |
| | Nordic welfare |
| | Lena Stark, Founder of Swedish basic income party, Member of UBIE since 2014 |
| | |
| 15.50 – 16.00 | Comments, questions, answers on Sweden's share of the Nordic UBI Day |
| | Comments on the previous speeches |
| | |
| 16.00 – 16.30 | Break |
| | |
| 16.30 – 17.15 | Speech of Rutger Bregman |
| | |
| 17.15 – 17.45 | Interview to promote Rutger Bregman's new book |
| | |
| 17.45 – 18.30 | Book selling and autographs in the lobby outside the auditorium |
The representative speakers are asked to submit their abstracts, photos and biographical notes via this form
For further information, please contact Jan Otto Andersson (janderss@abo.fi) or Jouko Hemmi (jouko.hemmi@hotmail.fi), members of the local organising committee  of BIEN 2018 Congress.
Aug
28
Tue
Places for People: Liveable, Inclusive, and Liveable Regions – Cork, Ireland


The congress theme is "Places for People: Liveable, Inclusive, and Liveable Regions", 'but the congress covers all fields in Regional Science. In addition to the general themes, a limited set of Special Sessions will be organized. The Special Sessions address specific and topical themes in Regional Science.
S50 Social and Spatial Inequalities and Basic Income Policies
A basic income (also known as universal basic income) is an income paid unconditionally to every citizen or resident of a country. It is a form of guaranteed minimum income, but distinct from minimum incomes that exist in some countries because it is paid irrespective of income from other sources without a requirement to work. It is often argued that the origins of the idea date back to 18th century and the work of Thomas Paine who advocated the creation of a social insurance scheme for the aged and for young people just starting out in life, which would be paid from a national fund accumulated for this purpose.
In recent years there has been a relatively small but rapidly growing number of academic scholars and social activists (and relevant networks and movements such as the Basic Income Earth Network – see http://basicincome.org ) who have been advocating Basic Income policies and there is currently a lively debate on its feasibility and desirability.
There has also been an implementation of relevant policy initiatives, trials and experiments across the world with recent efforts in Finland and Canada amongst the most notable examples, but also the on-going social assistance experiments conducted by several Dutch municipalities and discussions of a possible adoption of Basic Income in Scotland. Although there has been a considerable number of relevant feasibility studies, there has been very limited analysis of the possible spatial implications of such policies.
This special session will consider the geographical implications of Basic Income policies, including issues pertaining to social justice, labour market supply and demand implications and local and regional multiplier effects.
Convenor(s): Dimitris Ballas: Arjen Edjes
About the congress
Places matter for economic and social development. In an increasingly globalized world, people are looking to local and regional factors to optimize competitive advantage, inclusivity, and well-being. The ERSA congress "Places for People: Innovative, Inclusive and Liveable Regions" puts people back at the heart of regional and urban development to examine how spatial and regional analysis can work to improve people's lives. The Congress will host a large variety of themes in spatial, regional, and urban economics, economic geography, and regional policy topics like local governance and institutions.
With approximately 800 participants every year from all continents, the ERSA congresses have become the largest academic conferences in regional science worldwide. There is simply no better place to present your research results, network and/or exchange, find out about new developments in the field, and just to meet colleagues and friends.
https://ersa.eventsair.com/QuickEventWebsitePortal/58th-ersa-congress-cork-28-31-august-2018/ersa2018
Sep
13
Thu
UBIE Summer School on the Politics of Basic Income – Barcelona (ES)

@ venue will follow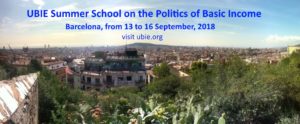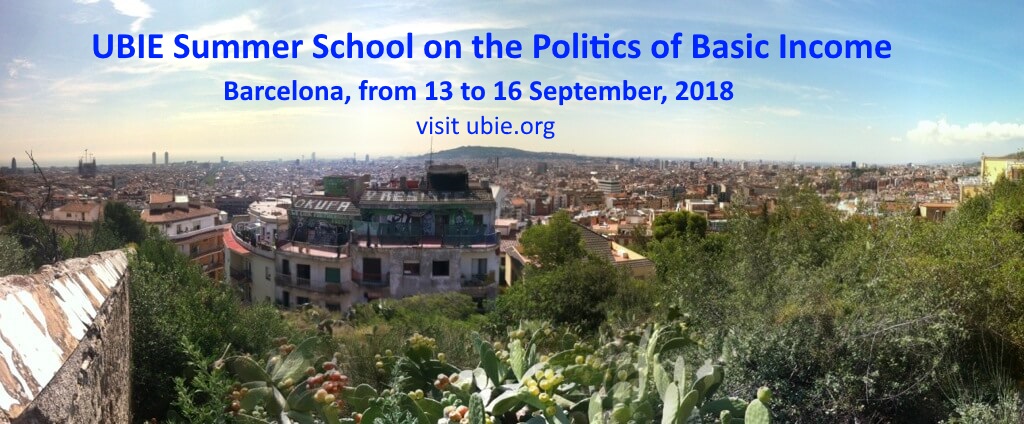 The first ever UBIE Summer School on the Politics of Basic Income will take place in Barcelona, from 13 to 16 September, 2018. Experts, policy-makers and civil society activists have been invited to speak about the opportunities and challenges of basic income in EU politics, with a specific focus on the 2019 European Elections.
Learn, discuss and build a European campaign with Unconditional Basic Income Europe! Let us try to understand together the political opportunities and challenges of making basic income a hot topic in the political marketplace of ideas in the European Union. Join us for the first European Summer School of UBIE in Barcelona, 13-16 September 2018!
The main outcome of the Summer School should be a concrete campaign plan to promote basic income during the 2019 European Elections. To achieve this, we plan to structure the programme in the following way:
The planned programme of the event is as follows:
Thursday 13th: Welcome Dinner
Friday 14th: Lectures and roundtables with invited experts
Saturday 15th: Workshops to develop a campaign plan for the 2019 European Elections
Sunday 16th: Finalising the campaign plan and sightseeing in Barcelona with UBIE activists!
UBIE does not have a huge budget for this event – which means that it can only be a success if you lend us a hand. There is plenty on things to do in preparation for the event, e.g. programme coordination (identifying and inviting speakers), participant coordination (following up registrations, helping with travel arrangements), logistics (accommodation, catering, equipments), internal and external communications, budgeting/fundraising, leaflet and programme design…
Barcelona started conducting a minimum income trial experiment (known as "B-MINCOME") last year, which many local people would like to develop into an actual basic income pilot. So we will also use the opportunity to discuss with local politicians and project partners how this attempt could increase public support for a real paradigm shift in social policies – towards a fully unconditional basic income.
Would you rather help out during the event? There are plenty of tasks, like participant coordination, event assistant, speaker assistant, and translator.
Can you help in any other way? Do you have questions? We will be delighted to hear! Please write to barcelona2018@ubie.org to let us know any way in which you can help before or during this event!
Going to join us? Great! Please fill in the registration form and do not forget to indicate how you can help!
We will organise a coordination phone call during next week to discuss preparations with all those who wish to help make this happen. The date and time is yet to be confirmed.
Greetings on behalf of the organising team,
Leire, Dániel and Barb