Calendar


If you have an event in your region, please use the event-form to send it in:
https://basicincomeweek.org/event-form/
At the moment, there are 3 each one worldwide synchronized Basic Income Week actions and projects:
until Sunday 22nd September 2019 "Basic Income Week Campaign":
overlay your Facebook profile picture www.facebook.com/BasicIncomeWeek/posts/995055477506728/ or direct www.facebook.com/profilepicframes/?selected_overlay_id=666500437198081
at Friday 20th September 2019 "2nd International Basic Income Beer – [City/Location]":
Since 2018 a worldwide synchronized regular table every year on the Friday evening of the International Basic Income Week where the local basic income groups meet in as many places as possible worldwide in a relaxed atmosphere for food & drink in cafes, bars, pubs, restaurants, etc. to exchange, network and at the same time on the topic basic income Interested local information materials/flyer and give speech & answer.
This can be done from small mini basic income regular table in small villages with 3 people and a simple sign up to large basic income regular table (as a small mini basic income fair) with information tables, speeches, presentations, free food & drinks, live Music/Band, Social Media Greetings, Live Switch to basic income regular tables in other cities and countries.
It is also a good time to reactivate or re-establish basic income initiatives through basic income regular tables!
(Possibly change/translate the title in your language e.g. german "2. Internationaler BGE-Stammtisch – [Stadt/Region]".)
E.g.:
Berlin (Germany), "2. Internationaler BGE-Stammtisch – Berlin" www.facebook.com/events/727312807612798/ or www.grundeinkommenberlin.wordpress.com/infos/#2
at Saturday 26st September 2019 "Basic Income March – [City/Location]":
"The Basic Income March, led by Basic Income NYC, is set for September 26, 2019. It might be accompanied by Basic Income Marches in other cities on the same day." www.basicincome.org/news/2019/07/a-march-for-basic-income-will-take-place-in-new-york-city-september-21-2019/
due to time organizing the date is moved forward to 26thseptember, next your we hope to have a sychronized event within Basic Income Week
E.g.:
New York City (USA), www.facebook.com/events/2475965342623015/ or www.facebook.com/BasicIncomeMarch/ or www.basicincomemarch.com
Please simple set-up Facebook page Basic Income Week as co-host to your Facebook event and we will see and add your event to our Facebook page and list over here. https://www.facebook.com/events/310298613181576
May
23
Wed
Time to rethink the European Central Bank – Brussels (BE)

@ KBR Royal Library of Brussels, auditorum Lippens
May 23 @ 17:00 – 21:00
Since the election of President Macron in France, an intense debate is taking place over the future governance of the Eurozone, including calls for a Eurozone finance minister, a European Monetary Fund and a Eurozone budget. However, less attention is being paid to the prospects for reforming the Eurozone cornerstone's institution itself: the European Central Bank (ECB).
Mario Draghi pledged to do "whatever it takes" to preserve the euro, and through its quantitative easing programme, the ECB has played an important role in rescuing the Eurozone economy. But this has come at a cost. The ECB's monetary policy has attracted heavy criticism from across the political spectrum, with many challenging the ECB's legitimacy, and questioning its ability to respond to the next crisis.
Early 2018, Positive Money Europe was founded as a new Brussels-based nonprofit organisation whose role is to scrutinize the ECB and offer proposals to improve monetary policy in the Eurozone.
At the occasion of our launch, we are delighted to invite you for this conference. It will feature two keynote speeches by distinguished speakers. Former governor of the Bank of Spain Miguel Angel Fernandez-Ordoñez will outline a fresh perspective on how the monetary system could be made more stable and safe, and Professor Annelise Riles(Cornell University) will provide a critical but constructive perspective on the politics of central banking. Looking forward, we will host a panel debate on the prospects for future ECB reform, featuring MEPs Jonas Fernandez, Molly Scott-Cato, Bruegel's director Guntram Wolff (tbc) and Boris Kisselevsky, Head of the European Central Bank representation in Brussels.
Afterwards, Positive Money will offer a reception.
Registration is mandatory for the event. Please register by clicking below:
MIGUEL ÁNGEL FERNÁNDEZ ORDÓÑEZ
Former Governor of Banco de España
Miguel Angel Fernandez-Ordoñez graduated from Universidad Complutense of Madrid. He initially lectured in Economic Policy at that University but has dedicated most of his career to the Public Administration, notably as State Secretary for the Economy, State Secretary for Trade, and State Secretary for Tax and Budget Policy, and was appointed as governor of the central bank of Spain from 2006 until 2012. He also worked in the OECD, the World Bank and the International Monetary Fund and currently he teaches at the IE University in Madrid. His experience as economist and member of the governing council of the European Central Bank during the euro crisis has led him to explore new ideas on how to reform the money and banking system.
ANNELISE RILES
Professor of Law and Anthropology, Cornell University
Annelise Riles is the Jack G. Clarke Professor of Law in Far East Legal Studies and Professor of Anthropology at Cornell, and the founder of Meridian 180, a multilingual forum for transformative leadership. Her work focuses on the transnational dimensions of laws, financial markets and culture. Her previous book, Collateral Knowledge: Legal Reasoning in the Global Financial Markets (Chicago Press 2011) was based on 15 years of fieldwork among central bankers, financial lawyers and regulators in Japan and the United States. Her most recent book "Financial Citizenship: Experts, Publics, and the Politics of Central Banking" outlines how a new relationship between central banks and the public can renew the legitimacy of central banks and address the democratic deficit in financial governance.
MOLLY SCOTT-CATO
Member of the European Parliament (Greens-EFA)
Molly Scott-Cato is a British Green politician, economist, environmental and community activist and current Member of the European Parliament since 2014. She studied politics, philosophy and economics at Oxford University and later gained a doctorate in economics from Aberystwyth. As MEP, Molly Scott-Cato seats in the Committee on Economic and Monetary Affairs where she focuses on sustainable finance and the monetary policy and is a member of the TAX3 Committee where she is working on tax evasion and tax avoidance.
JONÁS FERNÁNDEZ-ALVAREZ
Member of the European Parliament (Socialists & Democrats)
Jonás Fernández-Alvarez is a Spanish politician (PSOE) and member of the European Parliament since 2014 where he seats in the Economic and Monetary Affairs Committee. In 2017, he was the rapporteur on the Parliament's annual resolution on the European Central Bank. Jonás Fernández Álvarez holds an Executive MBA from IESE Business School (2010-12), MA in Economics and Finance from CEMFI-Bank of Spain (2002-04) and was chief economist of the consultancy firm Solchaga Recio & Asociados.
BORIS KISSELEVSKY
Head of the European Central Bank representation in Brussels
Head of the ECB representation in Brussels since 2017, he previously works at the IMF, the bank of Russia, the Banque de France and the ECB for many years.
GUNTRAM WOLFF
Director of Bruegel
Guntram Wolff is the Director of Bruegel. His research focuses on the European economy and governance, on fiscal and monetary policy and global finance. He regularly testifies at the European Finance Ministers' ECOFIN meeting, the European Parliament, the German Parliament (Bundestag) and the French Parliament (Assemblée Nationale). From 2012-16, he was a member of the French prime minister's Conseil d'Analyse Economique.
FRAN BOAIT
Positive Money's Executive Director and a Director of the Board of Finance Watch
Fran is Positive Money's Executive Director and a Director of the Board of Finance Watch. Fran studied Natural Sciences at the University of Cambridge and went on to complete a PhD researching carbon dioxide storage.
Fran became interested in economics and money creation after realising that the huge environmental and inequality crises we face could not easily be fixed without re-thinking how the current economic system works, and how to redesign it. Fran has worked at various global organisations including the United Nations, Greenpeace and BP.
17h00
Introduction remarks
By Fran Boait, Executive director at Positive Money
And Benoit Lallemand, Secretary General of Finance Watch
Why Positive Money Europe?
By Stanislas Jourdan, Head of Positive Money Europe
"Secure Money and Banking Liberalization"
Keynote speech by Miguel Ángel Fernández Ordóñez, former governor of the Bank of Spain
"Financial Citizenship: Experts, Publics, and the Politics of Central Banking"
Keynote speech by Annelise Riles, Professor at Cornell Law School
18h00
Panel debate: Does the ECB need reforms?
Jonas Fernandez – MEP S&D
Molly Scott-Cato – MEP Greens
Boris Kisselevsky, Head of the European Central Bank representation in Brussels
Guntram Wolff – Director of Bruegel (tbc)
Annelise Riles
Moderation: Fran Boait, Positive Money
19-21h00
Cocktail reception
Sep
19
Thu
Basic Income Café – Den Haag (NL)

@ The Grey Space in the Middle
Sep 19 @ 17:00 – 18:00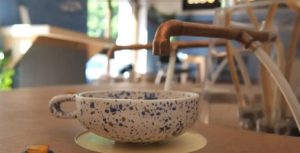 It looks like the definition of work is changing. What happens when jobs become rapidly automated at the same time that more and more people become self-employed freelancers? Should we be creating jobs just to keep people busy so they too can earn a living? What happens if we secured income instead of jobs?
Basic Income Café (a project by Martina Huynh in collaboration with Manon van Hoeckel) wants to find out how the definition of work and income is changing in The Netherlands today. What kind of work do we value and why? Does the salary really reflect how much we appreciate someone's work?
For that we are using the interactive installation (also called Basic Income Café), in which coffee is used as a metaphor to visualize the flow of money in two basic income economies. Your first cup of 'basic income' coffee is for free, for more you need to physically work (grind up some beans).
So come watch the coffee taxes flow, while experiencing economic models in new playful ways by drinking coffee!
At the opening, we have short presentations by:
Martina Huynh who will talk about Basic Income Café and the research behind the project – How is the topic of basic income being discussed at the moment?
Manon van Hoeckel who will share her findings of working with homeless youngsters in The Hague. What does it mean to be financially vulnerable today and how can design contribute to ease conversation between diverse groups of people?
Basic Income Café will be open three days a week from September 19 to December 19.
Experience and Discuss
Centraal in dit project staat het Basic Income Café, een interactieve installatie ontworpen door Martina Huynh. In deze installatie wordt koffie gebruikt als metafoor voor de geldstroom in twee alternatieve economieën.
Een belevenis an sich, een plek voor onderzoek en een gespreksstarter met als onderwerp het basisinkomen
http://martinahuynh.com/basic_income_cafe.html
Tijdens de opening zullen er korte presentaties gegeven worden door:
Martina Huynh – Hoe wordt er tegenwoordig gekeken naar het basisinkomen?
Manon van Hoeckel  -Hoe is het om financieel kwetsbaar te zijn? En hoe kan design een bijdrage leveren aan het vergemakkelijken van conversatie tussen verschillende groepen mensen?
Kom koffiedik kijken en praat mee over de toekomst van werk en inkomen!
Basic Income Café