Calendar



If you have an event in your region, please use the event-form to send it in:
https://basicincomeweek.org/event-form/
Webmasters can send their .ICS (ICAL) feed link pointing to the events in your local basic income week agenda for embedding into this calendar. (use tag "biweek2019")
more info: http://time.ly/document/user-guide/using-calendar/importing-events-calendars/
User hint
Just choose the right category to see the events in your country, if it is not there: there is work to be done! send them in!
Sep
19
Sat
Basic Income Family Picknick in The Park – Budapest – 19 sept. 2015

@ A Városligeti
Sep 19 @ 13:00 – 18:00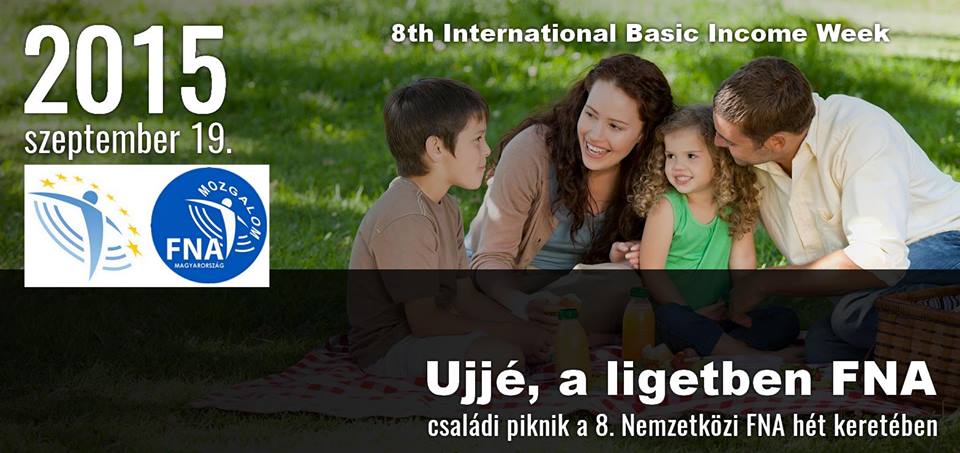 2015. szeptember 19.-én 13h-tól 18h-ig a Városligetbe vár mindenkit az FNA-Mozgalom!
Esemény: https://www.facebook.com/events/620697668033904
A 8. Nemzetközi Feltétel Nélküli Alapjövedelem (FNA) Hét
https://www.facebook.com/events/421208298066517/
keretében az egyik magyarországi eseményként kerül megrendezésre az FNA-Mozgalom nevében, melyre MINDENKIT SZERETETTEL VÁRUNK.
Tavaly szeptember 20.-án tartottunk a civil, informális Mozgalom jegyében rendezvényt, akkor is a Nemzetközi hét apropóján. Idén több aktivista bekapcsolódott a szervezésbe, így reményeink szerint tartalmasabb és főként érdekesebb programmal várhatunk benneteket, melyben a gyerekekre is gondoltunk:
13h -eseménymegnyitó
Folyamatos programok, amikre 13h-tól 17h-ig bármikor bekapcsolódhatsz:
– Kvíz játék (kérdések-válaszok külön gyerekeknek is)
– Gyereksarok (szolidaritási játékok)
– Flash mob (közös éneklés)
– Beszélgess velünk az FNA-ról (beszélgetősarok)
– Mikrofonpróba (amennyiben a kihangosítást sikerül megoldanunk, bárki jelentkezhet, max 5 perces "előadásra")
17.30- a játékok eredményhirdetése
A program még változhat a csatlakozó civil szervezők(önkéntes aktivisták), illetve szervezetek jóvoltából. 😉
Felkérésünk szervezeteknek:
Várjuk más (formális vagy informális) szervezetek bekapcsolódását is akár szervezőként (programokkal), akár résztvevőként (képviseltetve magukat), hogy a majális hangulat biztosítva lehessen. Járuljatok hozzá, hogy egy tényleg emlékezetes szabadidős délutánt, érdekes és tartalmas családi-pikniket találjanak a Városligetbe látogatók. Kérjük, a szervezetek részvételüket jelezzék a Mozgalom Facebook oldalán üzenetben.
OSZD MEG, és hívd meg ismerőseidet is!
Sep
18
Mon
A Conversation About Basic Income – Melbourne (australia)

@ The Kelvin Club
Sep 18 @ 18:00 – 19:30