Calendar



If you have an event in your region, please use the event-form to send it in:
https://basicincomeweek.org/event-form/
Webmasters can send their .ICS (ICAL) feed link pointing to the events in your local basic income week agenda for embedding into this calendar. (use tag "biweek2019")
more info: http://time.ly/document/user-guide/using-calendar/importing-events-calendars/
User hint
Just choose the right category to see the events in your country, if it is not there: there is work to be done! send them in!
Sep
21
Fri
Internationaler BGE-Stammtisch – Bedingungsloses Grundeinkommen (BGE) in Berlin

@ Restaurant Cancún
Sep 21 @ 18:00 – 23:59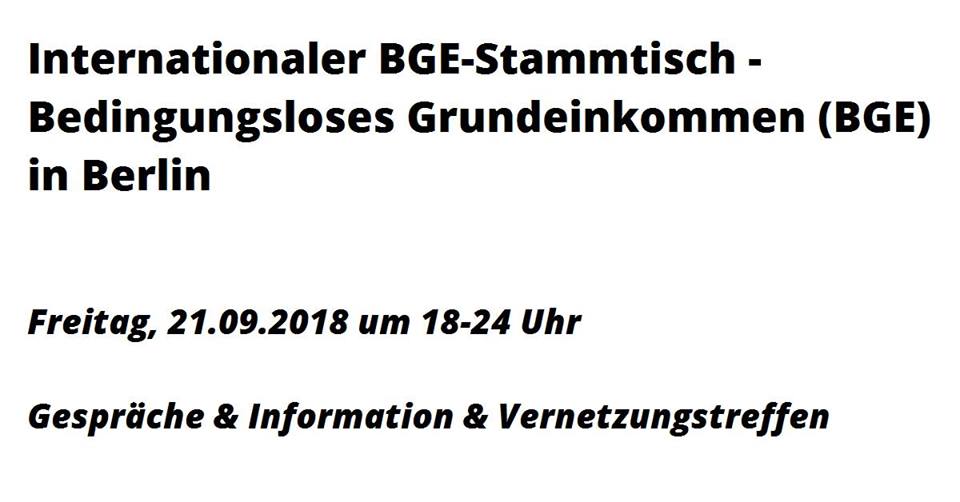 Gespräche & Information & Vernetzungstreffen "Internationaler BGE-Stammtisch" am Thema Bedingungsloses Grundeinkommen (BGE) Interessierten in Berlin und insbesondere die ca. 40 berliner BGE-Gruppierungen (BGE-Initiativen, BGE-Parteien, andere BGE befürwortende Organisationen) eingeladen, sich in lockerer Atmosphäre zu treffen, trinken, essen und auszutauschen sowie bzgl. laufender und zukünftiger BGE-Projekte auf den aktuellen Stand zu bringen.
Der Eintritt ist frei. Eine Anmeldung ist nicht erforderlich.
Treffen ist am exikanischen Restaurant Cancún am Alexanderplatz, Rathausstr. 5-13, 10178 Berlin (Alexanderplatz links neben Rotes Rathaus, im Restaurant drinnen linke Seite hinten, www.cancun-restaurant.de bzw. www.facebook.com/cancunalexanderplatz/ )
Die Getränke zahlt jeder Gast selber, Trinkpflicht besteht nicht.
Ein kostenloses warmes Buffet in Form verschiedener warmer Fingerfood-Platten (sowohl Fleisch als auch Vegetarisch) wird über den Abend verteilt in begrenztem Umfang gestellt.
Man kann kommen und gehen wie man möchte. Aufgrund der Vielfältigkeit der BGE-Interessierten und BGE-Gruppierungen wird um gegenseitigen Respekt vor Ort nicht nur bzgl. der vielfältigen Detail-Ansichten zur Einführung und Umsetzung eines BGE sondern auch um andere Ansichten, die nichts mit dem BGE zu tun haben, gebeten.
Die ca. 40 berliner BGE-Gruppierungen (BGE-Initiativen, BGE-Parteien, andere BGE befürwortende Organisationen) siehe Informationsblatt "Informationsquellen und Anlaufstellen in Berlin zum Thema Bedingungsloses Grundeinkommen (BGE)" als pdf Downloadbar https://grundeinkommenberlin.files.wordpress.com/2018/08/ini-bge-berlin-infos-2018-08-05.pdf bzw. auf www.grundeinkommenberlin.wordpress.com/infos/ bzw. als 'Story' auf www.facebook.com/pg/InitiativeGrundeinkommenBerlin/about/
An die berliner BGE-Gruppierungen gerichtet:
Infomaterial, Flyer und ähnliches zum Mitnehmen sowohl zur BGE-Gruppierung selbst als auch zu ihrem BGE sowie aktuellen und zukünftigen eigenen BGE-Projekten sind ausdrücklich erwünscht und können mitgebracht und auf vorbereitete Tische ausgelegt werden.
Ab ca. 19 Uhr können kurze freiwillige improvisierte Reden/Ansprachen zum Thema BGE in Berlin gehalten werden (jeder wie er will).
Wer etwas kurzes zum Thema BGE (wenn möglich ohne Ton) präsentieren bzw. als Art Bildschirmschoner laufen lassen möchte, es gibt einen relativ großen FlatTV (siehe der abgegrenzte Bereich rechts neben der Schwingtür www.restaurant-cancun.de/files/alex-2.swf) mit HDMI-Anschluss zum eigenen dann mitzubringenden Laptop. (Ein normales 5m-HDMI-Kabel wird vor Ort sein.)
Die 10 berliner BGE-Initiativen (alphabetisch sortiert):
Insofern die BGE-Initiativen (oder das Restaurant) als 'Gastgeber' in der Facebook-Veranstaltung erscheinen bedeutet dies nicht, dass diese Veranstalter im rechtlichen Sinne oder verantwortlich für diese offene Veranstaltung sind. Es ist auch nicht garantiert, dass diese (durchgängig) anwesend sein werden.
Siehe auch auf www.facebook.com/events/2179805578936627/
—
'Bedingungsloses Grundeinkommen' im Sinne der Definition des Netzwerk Grundeinkommen www.grundeinkommen.de/grundeinkommen/idee/ mit den 4 Kriterien:
"Ein Grundeinkommen ist ein Einkommen, das eine politische Gemeinschaft bedingungslos jedem ihrer Mitglieder gewährt. Es soll
die Existenz sichern und gesellschaftliche Teilhabe ermöglichen,
einen individuellen Rechtsanspruch darstellen sowie
ohne Bedürftigkeitsprüfung und
ohne Zwang zu Arbeit oder anderen Gegenleistungen garantiert werden."
Diese Veranstaltung findet im Rahmen der 11. Internationalen Woche des Grundeinkommens (Basic Income Week) Mo-So 17.-23.09.2018 statt.
#Grundeinkommenswoche #basicincomeweek
www.woche-des-grundeinkommens.eu
www.basicincomeweek.org
www.facebook.com/events/197189157604064/