Calendar


If you have an event in your region, please use the event-form to send it in:
https://basicincomeweek.org/event-form/
At the moment, there are 3 each one worldwide synchronized Basic Income Week actions and projects:
until Sunday 22nd September 2019 "Basic Income Week Campaign":
overlay your Facebook profile picture www.facebook.com/BasicIncomeWeek/posts/995055477506728/ or direct www.facebook.com/profilepicframes/?selected_overlay_id=666500437198081
at Friday 20th September 2019 "2nd International Basic Income Beer – [City/Location]":
Since 2018 a worldwide synchronized regular table every year on the Friday evening of the International Basic Income Week where the local basic income groups meet in as many places as possible worldwide in a relaxed atmosphere for food & drink in cafes, bars, pubs, restaurants, etc. to exchange, network and at the same time on the topic basic income Interested local information materials/flyer and give speech & answer.
This can be done from small mini basic income regular table in small villages with 3 people and a simple sign up to large basic income regular table (as a small mini basic income fair) with information tables, speeches, presentations, free food & drinks, live Music/Band, Social Media Greetings, Live Switch to basic income regular tables in other cities and countries.
It is also a good time to reactivate or re-establish basic income initiatives through basic income regular tables!
(Possibly change/translate the title in your language e.g. german "2. Internationaler BGE-Stammtisch – [Stadt/Region]".)
E.g.:
Berlin (Germany), "2. Internationaler BGE-Stammtisch – Berlin" www.facebook.com/events/727312807612798/ or www.grundeinkommenberlin.wordpress.com/infos/#2
at Saturday 26st September 2019 "Basic Income March – [City/Location]":
"The Basic Income March, led by Basic Income NYC, is set for September 26, 2019. It might be accompanied by Basic Income Marches in other cities on the same day." www.basicincome.org/news/2019/07/a-march-for-basic-income-will-take-place-in-new-york-city-september-21-2019/
due to time organizing the date is moved forward to 26thseptember, next your we hope to have a sychronized event within Basic Income Week
E.g.:
New York City (USA), www.facebook.com/events/2475965342623015/ or www.facebook.com/BasicIncomeMarch/ or www.basicincomemarch.com
Please simple set-up Facebook page Basic Income Week as co-host to your Facebook event and we will see and add your event to our Facebook page and list over here. https://www.facebook.com/events/310298613181576
Sep
18
Mon
En France, une dizaine d'événements – différentes villes

@ différentes villes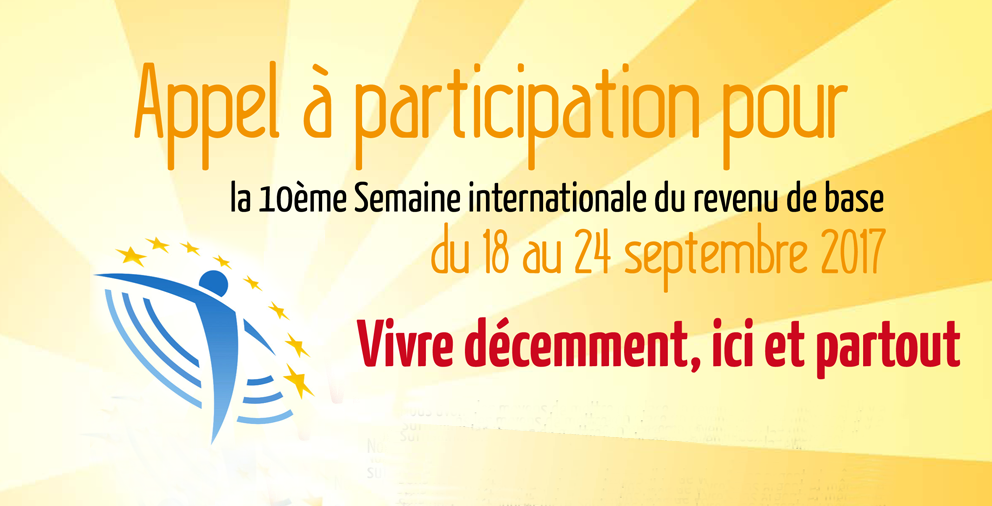 Du 18 au 24 septembre se tient la dixième semaine internationale du revenu de base. En France, une dizaine d'événements sont organisés dans différentes villes. Tour d'horizon !
Paris
Lundi 18 septembre : lors de la soirée Les Goguettes (péniche El Alamein, 13e arr), des membres du Mouvement français pour un revenu de base présenteront le revenu de base. Surprise musicale au programme !
Jeudi 21 septembre (à confirmer) : soirée de lancement du projet de tirage au sort "mon revenu de base" de Julien Bayou au Belushi's (Gare du Nord).
Lille
Mercredi 20 septembre à 19h-21h, à la Coroutine (8 rue Molière). Rencontre du groupe MFRB de Lille : repas partagé et convivial à 19h, puis partage d'infos et de projets !
Jeudi 21 septembre à 20h, au café l'Ecart (à l'angle des rues Jean Bart et Jeanne d'Arc). Présentation et débat sur l'idée, les concrétisations et les expérimentations de revenu de base. Soirée animée par le MFRB.
Vendredi 22 septembre à 19h30, au café citoyen (place du vieux marché aux chevaux). Discussion libre sur les principes et les pratiques qui fondent la Ğ1 (Ğune), une cryptomonnaie née en mars 2017 qui assure une création et une répartition égalitaire de la monnaie grâce au dividende universel. Soirée animée par le MFRB.
Amiens
Vendredi 22 septembre à 19h, à la Machinerie (1bis rue de la Vallée). Apéro-débat (mini-vidéos, courte présentation et tables tournantes) animé par le MFRB. Contact : lamachinerie.org.
Lyon
Les Inconditionnel-le-s de Lyon seront dans la rue ! Les membres du groupe local tracteront à différentes occasions cette semaine, comme le mardi 19 septembre à la Sucrière. N'hésitez pas à aller les interpeller !
Plus d'informations
Les groupes locaux en France : http://www.revenudebase.info
Jun
27
Wed
ETUC/ETUI conference: The World(s) of Work in Transition – Brussel (BE)

@ Hotel Thon Europe
The world is being transformed in ways that will profoundly challenge human society. Trade unions facing these new realities can play an important part in shaping this future. With this in mind a major conference organised by the ETUC and ETUI will bring together globally-renowned experts to debate some of the most pressing issues confronting workers, unions and governments.
The conference will address several megatrends impacting working life. First, the free movement of capital, services and people is altering the allocation of jobs throughout the European internal market. Second, climate change and the energy transition are making many occupations obsolete, while at the same time creating new 'green' jobs in emerging sectors and industries. Third, the demographic transition is changing the structure of the labour force and challenging social security systems. Finally, the digitalisation of the economy is set to disrupt the processes of production, employment and work conditions on an unprecedented scale.
So far, these transitions have been studied and reflected on independently from one another. As a result, conclusions about what the future holds, and the ensuing policy recommendations, vary according to the particular transition in question. What is now needed is for the different projections to be put together and analysed in tandem in order to fully understand the multiple and complex consequences for the world of work. Will all these changes create one new world of work, or many? How can trade unions engage with these developments and what strategies are there to cope with them? What should a new industrial policy look like in the sectors severely affected – such as energy, transport and construction? What skills will be needed and how can trade unions participate to ensure that workers are offered the required training and education?
These are some of the questions the 3rd ETUC/ETUI conference on the future of work will deal with. The overall format – plenaries and smaller panels – has proven very successful and will remain the same. However, added emphasis will be put on enriching the debate and provoking discussion through innovative sessions and greater opportunities for interaction.
If you are interested in attending the conference please send an email to [email protected]
Follow the conference via social media at #etuWOW18.
PROGRAMME:
Wednesday 27 June 2018

11:00-13:00 Plenary A: Global transitions and world(s) of work
14:00-15:30

Panel 1 – Inclusive growth: a new, successful agenda for collective bargaining?
Panel 2 – Working conditions in an ageing society
Panel 3 – Company mobility fueled by digitalization and Europeanisation: how can we shore up workers' rights?
Panel 4 – Employment forecasts and the digital, green and demographic transitions
Panel 5 – The impact of the digital transformation on job quality

16:00-16:30 Keynote speech by Valdis Dombrovskis, responsible for the Euro and Social Dialogue, European Commission
16:30-18:00

Plenary B: When the rich and powerful pretend they do not need us.

Thursday 28 June 2018

09:00-10:30

Plenary C: Labour market composition and demographic change: can migrants and new technologies offset population ageing?
Plenary D: Climate change and the transition to a green economy: what does it mean for jobs?

11:00-12:30

Panel 6 – The role of worker's participation in addressing the digitalisation-driven Europeanisation strategies of MNCs
Panel 7 – The link between job quality and innovation: virtuous or vicious circles?
Panel 8 – Working time reduction as a trade union strategy for a changing world of work
Panel 9 – Social protection beyond the basic income
Panel 10 – Industrial policy for the green and digital economies

13:30-15:00

Plenary E: Digitalisation and the new economy: disrupting production networks while tackling climate change?
Plenary F: Globalisation and Europeanisation: European solutions for global problems?

15:30-17:00

Panel 11 – Psychosocial risks: shifting the perspective towards positive values
Panel 12 – The impact of automation on working conditions, health and safety
Panel 13 – Jobs in a clean, future automobile industry
Panel 14 – Youth engagement and the future of work
Panel 15 – Interactive panel: Using visuals to foresee and learn about change

17:15-17:45 Keynote speech by Cecilia Malmström, European Commissioner for Trade
17:45-19:00

Plenary G: A New Economic Approach: what are the shortcomings of the current economic model, and how to fix them?

Friday 29 June 2018

09:00-10:30

Panel 16 – How to integrate the transition challenges in the national trade union research agenda?
Panel 17 – The rise of China as a technology superpower – what does this mean for European jobs?
Panel 18 – The four transitions: what skills do we need, and how do we provide them?
Panel 19 – The future of work: perspectives from the ILO
Panel 20 – Interactive panel: Discussing scenarios for 2030

11:00-11:30

Young trade-unionists' discussion on managing transitions
Visual Harvesting

11:30-13:00

Plenary H: Social Dialogue: how can we create a common agenda for Social Europe?
Download programme: https://www.etui.org/content/download/34280/329137/file/rptAllactivities_bookletA4.pdf