Calendar


If you have an event in your region, please use the event-form to send it in:
https://basicincomeweek.org/event-form/
At the moment, there are 3 each one worldwide synchronized Basic Income Week actions and projects:
until Sunday 22nd September 2019 "Basic Income Week Campaign":
overlay your Facebook profile picture www.facebook.com/BasicIncomeWeek/posts/995055477506728/ or direct www.facebook.com/profilepicframes/?selected_overlay_id=666500437198081
at Friday 20th September 2019 "2nd International Basic Income Beer – [City/Location]":
Since 2018 a worldwide synchronized regular table every year on the Friday evening of the International Basic Income Week where the local basic income groups meet in as many places as possible worldwide in a relaxed atmosphere for food & drink in cafes, bars, pubs, restaurants, etc. to exchange, network and at the same time on the topic basic income Interested local information materials/flyer and give speech & answer.
This can be done from small mini basic income regular table in small villages with 3 people and a simple sign up to large basic income regular table (as a small mini basic income fair) with information tables, speeches, presentations, free food & drinks, live Music/Band, Social Media Greetings, Live Switch to basic income regular tables in other cities and countries.
It is also a good time to reactivate or re-establish basic income initiatives through basic income regular tables!
(Possibly change/translate the title in your language e.g. german "2. Internationaler BGE-Stammtisch – [Stadt/Region]".)
E.g.:
Berlin (Germany), "2. Internationaler BGE-Stammtisch – Berlin" www.facebook.com/events/727312807612798/ or www.grundeinkommenberlin.wordpress.com/infos/#2
at Saturday 26st September 2019 "Basic Income March – [City/Location]":
"The Basic Income March, led by Basic Income NYC, is set for September 26, 2019. It might be accompanied by Basic Income Marches in other cities on the same day." www.basicincome.org/news/2019/07/a-march-for-basic-income-will-take-place-in-new-york-city-september-21-2019/
due to time organizing the date is moved forward to 26thseptember, next your we hope to have a sychronized event within Basic Income Week
E.g.:
New York City (USA), www.facebook.com/events/2475965342623015/ or www.facebook.com/BasicIncomeMarch/ or www.basicincomemarch.com
Please simple set-up Facebook page Basic Income Week as co-host to your Facebook event and we will see and add your event to our Facebook page and list over here. https://www.facebook.com/events/310298613181576
Sep
13
Thu
UBIE Summer School on the Politics of Basic Income – Barcelona (ES)

@ venue will follow
The first ever UBIE Summer School on the Politics of Basic Income will take place in Barcelona, from 13 to 16 September, 2018. Experts, policy-makers and civil society activists have been invited to speak about the opportunities and challenges of basic income in EU politics, with a specific focus on the 2019 European Elections.
Learn, discuss and build a European campaign with Unconditional Basic Income Europe! Let us try to understand together the political opportunities and challenges of making basic income a hot topic in the political marketplace of ideas in the European Union. Join us for the first European Summer School of UBIE in Barcelona, 13-16 September 2018!
The main outcome of the Summer School should be a concrete campaign plan to promote basic income during the 2019 European Elections. To achieve this, we plan to structure the programme in the following way:
The planned programme of the event is as follows:
Thursday 13th: Welcome Dinner
Friday 14th: Lectures and roundtables with invited experts
Saturday 15th: Workshops to develop a campaign plan for the 2019 European Elections
Sunday 16th: Finalising the campaign plan and sightseeing in Barcelona with UBIE activists!
UBIE does not have a huge budget for this event – which means that it can only be a success if you lend us a hand. There is plenty on things to do in preparation for the event, e.g. programme coordination (identifying and inviting speakers), participant coordination (following up registrations, helping with travel arrangements), logistics (accommodation, catering, equipments), internal and external communications, budgeting/fundraising, leaflet and programme design…
Barcelona started conducting a minimum income trial experiment (known as "B-MINCOME") last year, which many local people would like to develop into an actual basic income pilot. So we will also use the opportunity to discuss with local politicians and project partners how this attempt could increase public support for a real paradigm shift in social policies – towards a fully unconditional basic income.
Would you rather help out during the event? There are plenty of tasks, like participant coordination, event assistant, speaker assistant, and translator.
Can you help in any other way? Do you have questions? We will be delighted to hear! Please write to [email protected] to let us know any way in which you can help before or during this event!
Going to join us? Great! Please fill in the registration form and do not forget to indicate how you can help!
We will organise a coordination phone call during next week to discuss preparations with all those who wish to help make this happen. The date and time is yet to be confirmed.
Greetings on behalf of the organising team,
Leire, Dániel and Barb
Sep
18
Tue
Grundeinkommens-Verlosung – Basic Income to Win 1000€ per month for one year.
Sep 18 @ 19:00 – 20:00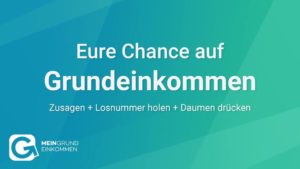 On September 18 at 19:00 we'll be giving away 10 Basic Incomes: 1000€ per month for one year.
You can participate in the raffle by signing up at www.mein-grundeinkommen.de and register for "Verlosung" to receive your winning number. The evening of the raffle will be broadcasted on social media channels such as Facebook, Instagram and Youtube:
Make sure to give us a like on Facebook to stay up to date about all Basic Income raffles in the future and sign up as so-called "Crowdhörnchen"on our website to participate in all future raffles automatically.
https://www.facebook.com/MeinGrundeinkommen/
"Mein Grundeinkommen" is a four-year-old German non-profit that crowdfunds and raffles off unconditional basic incomes of 1.000,- € a month. We are interested in finding out what happens if we, as a society, have the financial resources to focus on our life-goals rather than on existential needs. We would like to encourage people to trust each other more and indulge in more self-determination. We are taking the basic income discussion beyond academia and into our everyday experience.
For all questions, do not hesitate to contact us at [email protected]
and consult our FAQ → www.mein-grundeinkommen.de/projekt/fragen
Good luck!