Calendar


If you have an event in your region, please use the event-form to send it in:
https://basicincomeweek.org/event-form/
At the moment, there are 3 each one worldwide synchronized Basic Income Week actions and projects:
until Sunday 22nd September 2019 "Basic Income Week Campaign":
overlay your Facebook profile picture www.facebook.com/BasicIncomeWeek/posts/995055477506728/ or direct www.facebook.com/profilepicframes/?selected_overlay_id=666500437198081
at Friday 20th September 2019 "2nd International Basic Income Beer – [City/Location]":
Since 2018 a worldwide synchronized regular table every year on the Friday evening of the International Basic Income Week where the local basic income groups meet in as many places as possible worldwide in a relaxed atmosphere for food & drink in cafes, bars, pubs, restaurants, etc. to exchange, network and at the same time on the topic basic income Interested local information materials/flyer and give speech & answer.
This can be done from small mini basic income regular table in small villages with 3 people and a simple sign up to large basic income regular table (as a small mini basic income fair) with information tables, speeches, presentations, free food & drinks, live Music/Band, Social Media Greetings, Live Switch to basic income regular tables in other cities and countries.
It is also a good time to reactivate or re-establish basic income initiatives through basic income regular tables!
(Possibly change/translate the title in your language e.g. german "2. Internationaler BGE-Stammtisch – [Stadt/Region]".)
E.g.:
Berlin (Germany), "2. Internationaler BGE-Stammtisch – Berlin" www.facebook.com/events/727312807612798/ or www.grundeinkommenberlin.wordpress.com/infos/#2
at Saturday 26st September 2019 "Basic Income March – [City/Location]":
"The Basic Income March, led by Basic Income NYC, is set for September 26, 2019. It might be accompanied by Basic Income Marches in other cities on the same day." www.basicincome.org/news/2019/07/a-march-for-basic-income-will-take-place-in-new-york-city-september-21-2019/
due to time organizing the date is moved forward to 26thseptember, next your we hope to have a sychronized event within Basic Income Week
E.g.:
New York City (USA), www.facebook.com/events/2475965342623015/ or www.facebook.com/BasicIncomeMarch/ or www.basicincomemarch.com
Please simple set-up Facebook page Basic Income Week as co-host to your Facebook event and we will see and add your event to our Facebook page and list over here. https://www.facebook.com/events/310298613181576
Sep
18
Mon
Brengt De Derde Verlichting een Basisinkomen?

@ download
Tijdens deze week (tot november) is een beta-versie van het onderhanden boek 'De Derde Verlichting' voor proeflezing beschikbaar en te downloaden. In dit manifest, want dat is het in wezen, beschrijft Hans Geurts een weg naar de toekomst, waarin het basisinkomen een centrale rol speelt.
Welke religieuze, staatsrechtelijke en politieke keuzes maken we? Is er een einde aan economische groei? Komt er een depositobank? Komt er een uitgebreide belastingherziening met een rechtvaardige verdeling van lasten? Wanneer en hoe voeren we het onvoorwaardelijk basisinkomen in? Wat verwachten we van onze toekomst als mensheid? Wat doet de technologische vooruitgang met ons? Hoe organiseren we ons, van lokaal tot wereldwijd? Wie moet de baas zijn over onze infrastructuur? Koesteren we onze biotoop met de meeste zorg? Door dit soort vragen te stellen, antwoorden proberen te formuleren en erover te discussiëren met anderen kunt u ook flink bijdragen aan een voorspoedige Derde Verlichting. Vele offers moeten worden gebracht en voor sommigen zal verandering gepaard gaan met pijn. Ook een zekerheid is dat we het gezamenlijk zullen moeten doen. Alle verbeelding van alle mensen bundelen, dát is de core gedachte achter Vinisva. Ga ik het zelf nog meemaken? Ik ben bang van niet, maar een begin moet worden gemaakt. Het is een generatie-overkoepelende activiteit, gebouwd op het idee van holisme en centennial denken. 'Alles hangt met alles samen'.
En France, une dizaine d'événements – différentes villes

@ différentes villes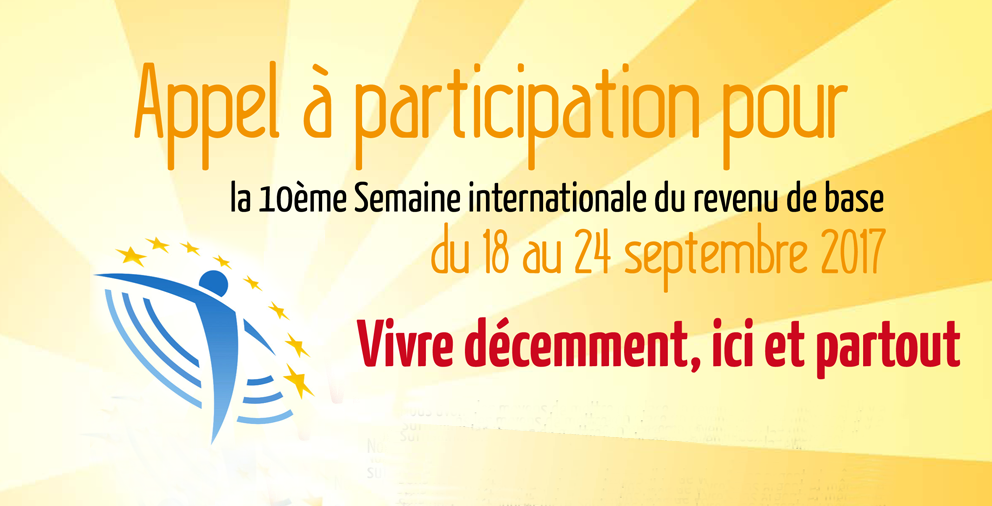 Du 18 au 24 septembre se tient la dixième semaine internationale du revenu de base. En France, une dizaine d'événements sont organisés dans différentes villes. Tour d'horizon !
Paris
Lundi 18 septembre : lors de la soirée Les Goguettes (péniche El Alamein, 13e arr), des membres du Mouvement français pour un revenu de base présenteront le revenu de base. Surprise musicale au programme !
Jeudi 21 septembre (à confirmer) : soirée de lancement du projet de tirage au sort "mon revenu de base" de Julien Bayou au Belushi's (Gare du Nord).
Lille
Mercredi 20 septembre à 19h-21h, à la Coroutine (8 rue Molière). Rencontre du groupe MFRB de Lille : repas partagé et convivial à 19h, puis partage d'infos et de projets !
Jeudi 21 septembre à 20h, au café l'Ecart (à l'angle des rues Jean Bart et Jeanne d'Arc). Présentation et débat sur l'idée, les concrétisations et les expérimentations de revenu de base. Soirée animée par le MFRB.
Vendredi 22 septembre à 19h30, au café citoyen (place du vieux marché aux chevaux). Discussion libre sur les principes et les pratiques qui fondent la Ğ1 (Ğune), une cryptomonnaie née en mars 2017 qui assure une création et une répartition égalitaire de la monnaie grâce au dividende universel. Soirée animée par le MFRB.
Amiens
Vendredi 22 septembre à 19h, à la Machinerie (1bis rue de la Vallée). Apéro-débat (mini-vidéos, courte présentation et tables tournantes) animé par le MFRB. Contact : lamachinerie.org.
Lyon
Les Inconditionnel-le-s de Lyon seront dans la rue ! Les membres du groupe local tracteront à différentes occasions cette semaine, comme le mardi 19 septembre à la Sucrière. N'hésitez pas à aller les interpeller !
Plus d'informations
Les groupes locaux en France : http://www.revenudebase.info
Sep
13
Thu
UBIE Summer School on the Politics of Basic Income – Barcelona (ES)

@ venue will follow
The first ever UBIE Summer School on the Politics of Basic Income will take place in Barcelona, from 13 to 16 September, 2018. Experts, policy-makers and civil society activists have been invited to speak about the opportunities and challenges of basic income in EU politics, with a specific focus on the 2019 European Elections.
Learn, discuss and build a European campaign with Unconditional Basic Income Europe! Let us try to understand together the political opportunities and challenges of making basic income a hot topic in the political marketplace of ideas in the European Union. Join us for the first European Summer School of UBIE in Barcelona, 13-16 September 2018!
The main outcome of the Summer School should be a concrete campaign plan to promote basic income during the 2019 European Elections. To achieve this, we plan to structure the programme in the following way:
The planned programme of the event is as follows:
Thursday 13th: Welcome Dinner
Friday 14th: Lectures and roundtables with invited experts
Saturday 15th: Workshops to develop a campaign plan for the 2019 European Elections
Sunday 16th: Finalising the campaign plan and sightseeing in Barcelona with UBIE activists!
UBIE does not have a huge budget for this event – which means that it can only be a success if you lend us a hand. There is plenty on things to do in preparation for the event, e.g. programme coordination (identifying and inviting speakers), participant coordination (following up registrations, helping with travel arrangements), logistics (accommodation, catering, equipments), internal and external communications, budgeting/fundraising, leaflet and programme design…
Barcelona started conducting a minimum income trial experiment (known as "B-MINCOME") last year, which many local people would like to develop into an actual basic income pilot. So we will also use the opportunity to discuss with local politicians and project partners how this attempt could increase public support for a real paradigm shift in social policies – towards a fully unconditional basic income.
Would you rather help out during the event? There are plenty of tasks, like participant coordination, event assistant, speaker assistant, and translator.
Can you help in any other way? Do you have questions? We will be delighted to hear! Please write to [email protected] to let us know any way in which you can help before or during this event!
Going to join us? Great! Please fill in the registration form and do not forget to indicate how you can help!
We will organise a coordination phone call during next week to discuss preparations with all those who wish to help make this happen. The date and time is yet to be confirmed.
Greetings on behalf of the organising team,
Leire, Dániel and Barb