Calendar



If you have an event in your region, please use the event-form to send it in:
https://basicincomeweek.org/event-form/
Webmasters can send their .ICS (ICAL) feed link pointing to the events in your local basic income week agenda for embedding into this calendar. (use tag "biweek2019")
more info: http://time.ly/document/user-guide/using-calendar/importing-events-calendars/
User hint
Just choose the right category to see the events in your country, if it is not there: there is work to be done! send them in!
Sep
18
Mon
En France, une dizaine d'événements – différentes villes

@ différentes villes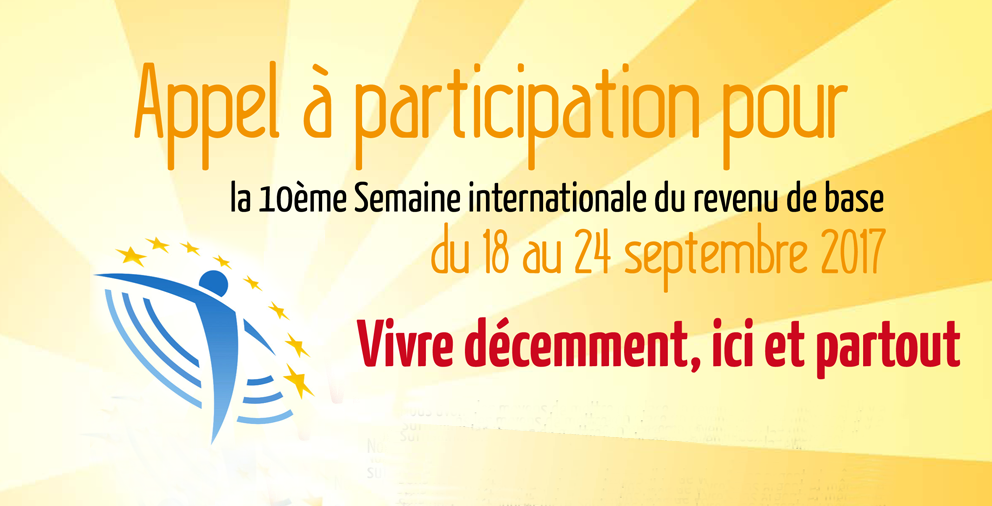 Du 18 au 24 septembre se tient la dixième semaine internationale du revenu de base. En France, une dizaine d'événements sont organisés dans différentes villes. Tour d'horizon !
Paris
Lundi 18 septembre : lors de la soirée Les Goguettes (péniche El Alamein, 13e arr), des membres du Mouvement français pour un revenu de base présenteront le revenu de base. Surprise musicale au programme !
Jeudi 21 septembre (à confirmer) : soirée de lancement du projet de tirage au sort "mon revenu de base" de Julien Bayou au Belushi's (Gare du Nord).
Lille
Mercredi 20 septembre à 19h-21h, à la Coroutine (8 rue Molière). Rencontre du groupe MFRB de Lille : repas partagé et convivial à 19h, puis partage d'infos et de projets !
Jeudi 21 septembre à 20h, au café l'Ecart (à l'angle des rues Jean Bart et Jeanne d'Arc). Présentation et débat sur l'idée, les concrétisations et les expérimentations de revenu de base. Soirée animée par le MFRB.
Vendredi 22 septembre à 19h30, au café citoyen (place du vieux marché aux chevaux). Discussion libre sur les principes et les pratiques qui fondent la Ğ1 (Ğune), une cryptomonnaie née en mars 2017 qui assure une création et une répartition égalitaire de la monnaie grâce au dividende universel. Soirée animée par le MFRB.
Amiens
Vendredi 22 septembre à 19h, à la Machinerie (1bis rue de la Vallée). Apéro-débat (mini-vidéos, courte présentation et tables tournantes) animé par le MFRB. Contact : lamachinerie.org.
Lyon
Les Inconditionnel-le-s de Lyon seront dans la rue ! Les membres du groupe local tracteront à différentes occasions cette semaine, comme le mardi 19 septembre à la Sucrière. N'hésitez pas à aller les interpeller !
Plus d'informations
Les groupes locaux en France : http://www.revenudebase.info
May
24
Thu
North American Basic Income Guarantee Congress 2018

@ McMaster University

The Next North American Basic Income Guarantee Congress will be will take place at McMaster Unversity in Hamilton, Ontario from May 24-27, 2018.
NABIG 2018 is being organized by a Canadian-American team including representatives of Basic Income Canada Network, U.S. Basic Income Guarantee Network, McMaster University, and the Hamilton Poverty Roundtable
Save the dates! We are very excited to announce that the 17th Annual North American Basic Income Congress (NABIG) will be held May 24-27 at McMaster University in Hamilton, Ontario!
NABIG is held alternately in the United States and Canada. Highlights from the June 2017 congress in New York City included speakers such as Facebook co-founder Chris Hughes, international labour leader Andy Stern, and renowned scholar and activist Frances Fox Piven. NABIG 2018 will focus on:
• making basic income a reality, for example, through research, policy development and pilots as well as strategies for mobilizing support
• the converging paths leading to basic income as a solution to multiple concerns connected to health, human rights, the future of work, poverty, inequality, economic and environmental sustainability, democracy and more. NABIG is a great forum for learning, sharing and networking among people from all walks of life.
"The idea of a universal basic income is gaining traction and I am pleased that next year's NABIG, which will bring together hundreds of advocates, academics and government representatives from across the continent, is being held in Hamilton," remarks Hamilton's Mayor, Fred Eisenberger. "Our City is increasingly becoming a focal point for progressive social policy discussion."
We at BICN and the U.S. Basic Income Guarantee Network are thrilled that McMaster University, the Hamilton Roundtable for Poverty Reduction, Low Income Families Together (in Toronto), and others are collaborating with us to host a 2018 Congress that is shaping up to be an important and influential event. Support is coming from a wide range of organizations, places and people, such as municipal leaders. And we are lining up NABIG 2018 speakers now, like Dr. Evelyn Forget, the University of Manitoba researcher who unearthed such powerful findings from the 1970s Manitoba Mincome experiment in basic income.
Please save the date and watch for further announcements about key speakers and a Call for Participation later this fall, followed by registration details. We hope to see you at McMaster University and in Hamilton to be part of NABIG 2018!