Calendar



If you have an event in your region, please use the event-form to send it in:
https://basicincomeweek.org/event-form/
Webmasters can send their .ICS (ICAL) feed link pointing to the events in your local basic income week agenda for embedding into this calendar. (use tag "biweek2019")
more info: http://time.ly/document/user-guide/using-calendar/importing-events-calendars/
User hint
Just choose the right category to see the events in your country, if it is not there: there is work to be done! send them in!
Sep
22
Thu
Nordic Conference on Basic Income Pilots – Copenhagen DK

@ Christiansborg

The first ever Nordic conference on Basic Income Pilots, will take place in the historical setting of Christiansborg, the Danish parliament building in the very centre of Copenhagen, on September 22-23, 2016.
The conference is hosted by the Danish branch of Basic Income Earth Network (BIEN Denmark) in collaboration with the political party the Alternative and in association with Unconditional Basic Income Europe. It will also be the main Danish event marking the 9th International Basic Income Week, September 19-25.
The idea of a basic income for all citizens has been around for some time, but has recently gained significantly in popularity, not only among social scientists, economists and philosophers, but also in the general population, in the media and in the political establishment. The number of newspaper and scholarly articles as well as television programs debating this theme has skyrocketed within the last two or three years.
Day 1 of the conference will deal specifically with basic income experiments or pilots. Basic income, in the context of pilots, may be defined as a form of economic safety net that is less conditional than existing welfare benefits. In contrast to traditional forms of social security or welfare benefit systems, a basic income is not made dependent upon work participation (workfare) or personal savings. Also, in some cases, personal income, earned in addition to the basic income, is not set off against it. This is to ensure that it will always pay to work.
In order to evaluate the effect of a basic income in a specific population, pilot studies have been conducted by either private organizations and individuals or even governments since the 1960s, at both regional and state levels.
Still, the exact implementation of basic income varies, particularly in terms of conditionality, and a number of different models have already been introduced or projected. The purpose of the conference is to discuss the anticipated short- or long-term effects of these models and to draw experience from previous experiments and studies.
Day 2 of the conference is dedicated to meetings between basic income activists, researchers and politicians from the Nordic countries and will include both presentations and group discussions. The working title of this part of the conference will be "Basic Income and the Nordic Model".
A number of distinguished guest speakers have been invited to the conference, which will be moderated by writer and journalist Knud Vilby and officially opened by the political leader of the Alternative, Uffe Elbæk.
On Thursday evening, Day 1 of the conference, we are organizing a special event including a dinner with entertainment, and we hope that you will also want to participate in this less formal part of the program. For more details on this, please see the Evening Event page.
Sep
18
Mon
En France, une dizaine d'événements – différentes villes

@ différentes villes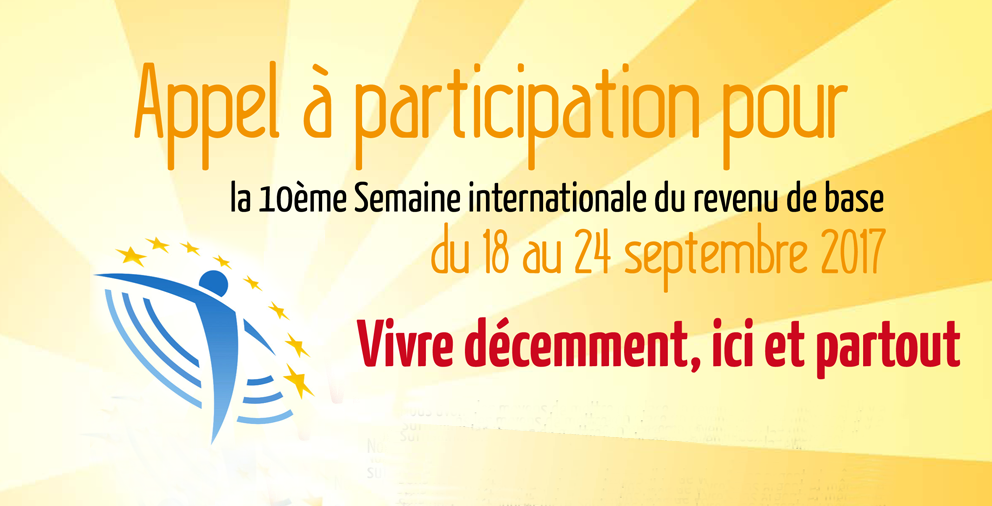 Du 18 au 24 septembre se tient la dixième semaine internationale du revenu de base. En France, une dizaine d'événements sont organisés dans différentes villes. Tour d'horizon !
Paris
Lundi 18 septembre : lors de la soirée Les Goguettes (péniche El Alamein, 13e arr), des membres du Mouvement français pour un revenu de base présenteront le revenu de base. Surprise musicale au programme !
Jeudi 21 septembre (à confirmer) : soirée de lancement du projet de tirage au sort "mon revenu de base" de Julien Bayou au Belushi's (Gare du Nord).
Lille
Mercredi 20 septembre à 19h-21h, à la Coroutine (8 rue Molière). Rencontre du groupe MFRB de Lille : repas partagé et convivial à 19h, puis partage d'infos et de projets !
Jeudi 21 septembre à 20h, au café l'Ecart (à l'angle des rues Jean Bart et Jeanne d'Arc). Présentation et débat sur l'idée, les concrétisations et les expérimentations de revenu de base. Soirée animée par le MFRB.
Vendredi 22 septembre à 19h30, au café citoyen (place du vieux marché aux chevaux). Discussion libre sur les principes et les pratiques qui fondent la Ğ1 (Ğune), une cryptomonnaie née en mars 2017 qui assure une création et une répartition égalitaire de la monnaie grâce au dividende universel. Soirée animée par le MFRB.
Amiens
Vendredi 22 septembre à 19h, à la Machinerie (1bis rue de la Vallée). Apéro-débat (mini-vidéos, courte présentation et tables tournantes) animé par le MFRB. Contact : lamachinerie.org.
Lyon
Les Inconditionnel-le-s de Lyon seront dans la rue ! Les membres du groupe local tracteront à différentes occasions cette semaine, comme le mardi 19 septembre à la Sucrière. N'hésitez pas à aller les interpeller !
Plus d'informations
Les groupes locaux en France : http://www.revenudebase.info