Calendar



If you have an event in your region, please use the event-form to send it in:
https://basicincomeweek.org/event-form/
Webmasters can send their .ICS (ICAL) feed link pointing to the events in your local basic income week agenda for embedding into this calendar. (use tag "biweek2019")
more info: http://time.ly/document/user-guide/using-calendar/importing-events-calendars/
User hint
Just choose the right category to see the events in your country, if it is not there: there is work to be done! send them in!
Sep
18
Mon
En France, une dizaine d'événements – différentes villes

@ différentes villes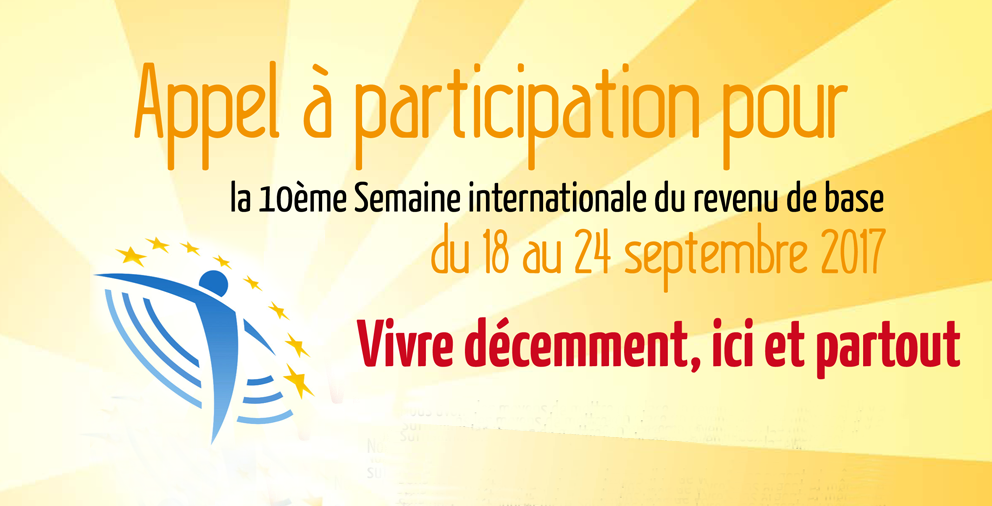 Du 18 au 24 septembre se tient la dixième semaine internationale du revenu de base. En France, une dizaine d'événements sont organisés dans différentes villes. Tour d'horizon !
Paris
Lundi 18 septembre : lors de la soirée Les Goguettes (péniche El Alamein, 13e arr), des membres du Mouvement français pour un revenu de base présenteront le revenu de base. Surprise musicale au programme !
Jeudi 21 septembre (à confirmer) : soirée de lancement du projet de tirage au sort "mon revenu de base" de Julien Bayou au Belushi's (Gare du Nord).
Lille
Mercredi 20 septembre à 19h-21h, à la Coroutine (8 rue Molière). Rencontre du groupe MFRB de Lille : repas partagé et convivial à 19h, puis partage d'infos et de projets !
Jeudi 21 septembre à 20h, au café l'Ecart (à l'angle des rues Jean Bart et Jeanne d'Arc). Présentation et débat sur l'idée, les concrétisations et les expérimentations de revenu de base. Soirée animée par le MFRB.
Vendredi 22 septembre à 19h30, au café citoyen (place du vieux marché aux chevaux). Discussion libre sur les principes et les pratiques qui fondent la Ğ1 (Ğune), une cryptomonnaie née en mars 2017 qui assure une création et une répartition égalitaire de la monnaie grâce au dividende universel. Soirée animée par le MFRB.
Amiens
Vendredi 22 septembre à 19h, à la Machinerie (1bis rue de la Vallée). Apéro-débat (mini-vidéos, courte présentation et tables tournantes) animé par le MFRB. Contact : lamachinerie.org.
Lyon
Les Inconditionnel-le-s de Lyon seront dans la rue ! Les membres du groupe local tracteront à différentes occasions cette semaine, comme le mardi 19 septembre à la Sucrière. N'hésitez pas à aller les interpeller !
Plus d'informations
Les groupes locaux en France : http://www.revenudebase.info