Calendar



If you have an event in your region, please use the event-form to send it in:
https://basicincomeweek.org/event-form/
Webmasters can send their .ICS (ICAL) feed link pointing to the events in your local basic income week agenda for embedding into this calendar. (use tag "biweek2018")
more info: http://time.ly/document/user-guide/using-calendar/importing-events-calendars/
User hint
Just choose the right category to see the events in your country, if it is not there: there is work to be done! send them in!
Aug
28
Tue
Places for People: Liveable, Inclusive, and Liveable Regions – Cork, Ireland


The congress theme is "Places for People: Liveable, Inclusive, and Liveable Regions", 'but the congress covers all fields in Regional Science. In addition to the general themes, a limited set of Special Sessions will be organized. The Special Sessions address specific and topical themes in Regional Science.
S50 Social and Spatial Inequalities and Basic Income Policies
A basic income (also known as universal basic income) is an income paid unconditionally to every citizen or resident of a country. It is a form of guaranteed minimum income, but distinct from minimum incomes that exist in some countries because it is paid irrespective of income from other sources without a requirement to work. It is often argued that the origins of the idea date back to 18th century and the work of Thomas Paine who advocated the creation of a social insurance scheme for the aged and for young people just starting out in life, which would be paid from a national fund accumulated for this purpose.
In recent years there has been a relatively small but rapidly growing number of academic scholars and social activists (and relevant networks and movements such as the Basic Income Earth Network – see http://basicincome.org ) who have been advocating Basic Income policies and there is currently a lively debate on its feasibility and desirability.
There has also been an implementation of relevant policy initiatives, trials and experiments across the world with recent efforts in Finland and Canada amongst the most notable examples, but also the on-going social assistance experiments conducted by several Dutch municipalities and discussions of a possible adoption of Basic Income in Scotland. Although there has been a considerable number of relevant feasibility studies, there has been very limited analysis of the possible spatial implications of such policies.
This special session will consider the geographical implications of Basic Income policies, including issues pertaining to social justice, labour market supply and demand implications and local and regional multiplier effects.
Convenor(s): Dimitris Ballas: Arjen Edjes
About the congress
Places matter for economic and social development. In an increasingly globalized world, people are looking to local and regional factors to optimize competitive advantage, inclusivity, and well-being. The ERSA congress "Places for People: Innovative, Inclusive and Liveable Regions" puts people back at the heart of regional and urban development to examine how spatial and regional analysis can work to improve people's lives. The Congress will host a large variety of themes in spatial, regional, and urban economics, economic geography, and regional policy topics like local governance and institutions.
With approximately 800 participants every year from all continents, the ERSA congresses have become the largest academic conferences in regional science worldwide. There is simply no better place to present your research results, network and/or exchange, find out about new developments in the field, and just to meet colleagues and friends.
https://ersa.eventsair.com/QuickEventWebsitePortal/58th-ersa-congress-cork-28-31-august-2018/ersa2018
Sep
13
Thu
UBIE Summer School on the Politics of Basic Income – Barcelona (ES)

@ venue will follow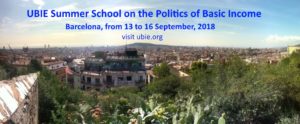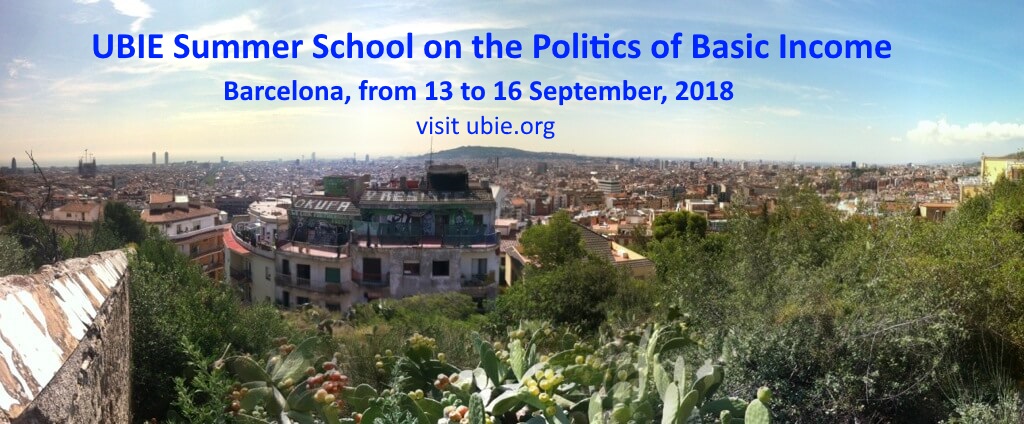 The first ever UBIE Summer School on the Politics of Basic Income will take place in Barcelona, from 13 to 16 September, 2018. Experts, policy-makers and civil society activists have been invited to speak about the opportunities and challenges of basic income in EU politics, with a specific focus on the 2019 European Elections.
Learn, discuss and build a European campaign with Unconditional Basic Income Europe! Let us try to understand together the political opportunities and challenges of making basic income a hot topic in the political marketplace of ideas in the European Union. Join us for the first European Summer School of UBIE in Barcelona, 13-16 September 2018!
The main outcome of the Summer School should be a concrete campaign plan to promote basic income during the 2019 European Elections. To achieve this, we plan to structure the programme in the following way:
The planned programme of the event is as follows:
Thursday 13th: Welcome Dinner
Friday 14th: Lectures and roundtables with invited experts
Saturday 15th: Workshops to develop a campaign plan for the 2019 European Elections
Sunday 16th: Finalising the campaign plan and sightseeing in Barcelona with UBIE activists!
UBIE does not have a huge budget for this event – which means that it can only be a success if you lend us a hand. There is plenty on things to do in preparation for the event, e.g. programme coordination (identifying and inviting speakers), participant coordination (following up registrations, helping with travel arrangements), logistics (accommodation, catering, equipments), internal and external communications, budgeting/fundraising, leaflet and programme design…
Barcelona started conducting a minimum income trial experiment (known as "B-MINCOME") last year, which many local people would like to develop into an actual basic income pilot. So we will also use the opportunity to discuss with local politicians and project partners how this attempt could increase public support for a real paradigm shift in social policies – towards a fully unconditional basic income.
Would you rather help out during the event? There are plenty of tasks, like participant coordination, event assistant, speaker assistant, and translator.
Can you help in any other way? Do you have questions? We will be delighted to hear! Please write to barcelona2018@ubie.org to let us know any way in which you can help before or during this event!
Going to join us? Great! Please fill in the registration form and do not forget to indicate how you can help!
We will organise a coordination phone call during next week to discuss preparations with all those who wish to help make this happen. The date and time is yet to be confirmed.
Greetings on behalf of the organising team,
Leire, Dániel and Barb
Oct
11
Thu
Basic Income and the Euro-Dividend as sociopolitical pillars of the EU and its member countries – Freiburg (DE)

@ University of Freiburg


BASIC INCOME AND THE EURO-DIVIDEND AS SOCIOPOLITICAL
PILLARS OF THE EU AND ITS MEMBER COUNTRIES
Interdisciplinary Conference at the University of Freiburg, Germany October 11-12, 2018
In Europe, the public debate about a universal basic income (UBI) is usually a national one. In
recent years a European version of a UBI has attracted more and more attention – primarily pushed
by the suggestion of Philippe Van Parijs titled a "Euro-Dividend".
This conference aims to shed light at pros and cons of a EU wide UBI regulation and its relation to
national approaches from an interdisciplinary perspective. Both UBI approaches shall be analysed
and discussed with respect to justice, economic and migration effects, legal aspects, creation of
solidarity in the EU, and political viability. On the first day, the conference will address general
issues about UBI while the schedule of the second day contains EU-related concepts just like the
Euro-Dividend.
CALL FOR PAPERS
We invite papers from Philosophy, Sociology, Political Science, Law, and Economics and even
Technical Sciences addressing one or more of the following topics:
UBI and arguments of freedom, solidarity, social and gender justice
Changing time allocation and shifting time sovereignty, voluntarism and creativity
Legal aspects of UBI
Experiments and microsimulations on UBI's level and impact
UBI in the digital age / Robots, AI, Labor, and the Welfare State
The European Pillar of Social Rights, UBI, and Euro-Dividend: Creating European Solidarity
Financial feasibility of a UBI and financing concepts of a Euro-Dividend
EU labour market effects and migration (on international level and within the EU)
Please send title and abstract of about one-page in length by June 11th, 2018, to
max.trommsdorff@vwl.uni-freiburg.de. Participants will be informed about the acceptance of
their papers by July 2nd.
Keynote Speakers:
Olli Kangas (Kela, Finland)
Philippe Van Parijs (Université catholique de Louvain)
Antje Schrupp (freelance journalist)
Mancolm Torry (London School of Economics)
Organization:
Sascha Liebermann (Alanus University, Alfter)
Bernhard Neumärker (University of Freiburg)
In cooperation with: Frankreichzentrum, Freiburg
Organized by the Department of Economic Policy and Constitutional Economic Theory we aim to gather relevant leading researchers and thinkers in Europe to discuss an EU wide approach of a basic income.
If you have any questions Max Trommsdorff glad to assist you.
/Max Trommsdorff M. Sc. in Economics and Politics/
/University of Freiburg/
/Department of Economic Policy & Constitutional Economic Theory/
/Room  2303, KG II/