Calendar


If you have an event in your region, please use the event-form to send it in:
https://basicincomeweek.org/event-form/
At the moment, there are 3 each one worldwide synchronized Basic Income Week actions and projects:
until Sunday 22nd September 2019 "Basic Income Week Campaign":
overlay your Facebook profile picture www.facebook.com/BasicIncomeWeek/posts/995055477506728/ or direct www.facebook.com/profilepicframes/?selected_overlay_id=666500437198081
at Friday 20th September 2019 "2nd International Basic Income Beer – [City/Location]":
Since 2018 a worldwide synchronized regular table every year on the Friday evening of the International Basic Income Week where the local basic income groups meet in as many places as possible worldwide in a relaxed atmosphere for food & drink in cafes, bars, pubs, restaurants, etc. to exchange, network and at the same time on the topic basic income Interested local information materials/flyer and give speech & answer.
This can be done from small mini basic income regular table in small villages with 3 people and a simple sign up to large basic income regular table (as a small mini basic income fair) with information tables, speeches, presentations, free food & drinks, live Music/Band, Social Media Greetings, Live Switch to basic income regular tables in other cities and countries.
It is also a good time to reactivate or re-establish basic income initiatives through basic income regular tables!
(Possibly change/translate the title in your language e.g. german "2. Internationaler BGE-Stammtisch – [Stadt/Region]".)
E.g.:
Berlin (Germany), "2. Internationaler BGE-Stammtisch – Berlin" www.facebook.com/events/727312807612798/ or www.grundeinkommenberlin.wordpress.com/infos/#2
at Saturday 26st September 2019 "Basic Income March – [City/Location]":
"The Basic Income March, led by Basic Income NYC, is set for September 26, 2019. It might be accompanied by Basic Income Marches in other cities on the same day." www.basicincome.org/news/2019/07/a-march-for-basic-income-will-take-place-in-new-york-city-september-21-2019/
due to time organizing the date is moved forward to 26thseptember, next your we hope to have a sychronized event within Basic Income Week
E.g.:
New York City (USA), www.facebook.com/events/2475965342623015/ or www.facebook.com/BasicIncomeMarch/ or www.basicincomemarch.com
Please simple set-up Facebook page Basic Income Week as co-host to your Facebook event and we will see and add your event to our Facebook page and list over here. https://www.facebook.com/events/310298613181576
Sep
21
Sat
"기본소득의 사상과 이론" – Seoul (KR)

@ 정치경제연구소 대안
Sep 21 @ 10:30 – 12:00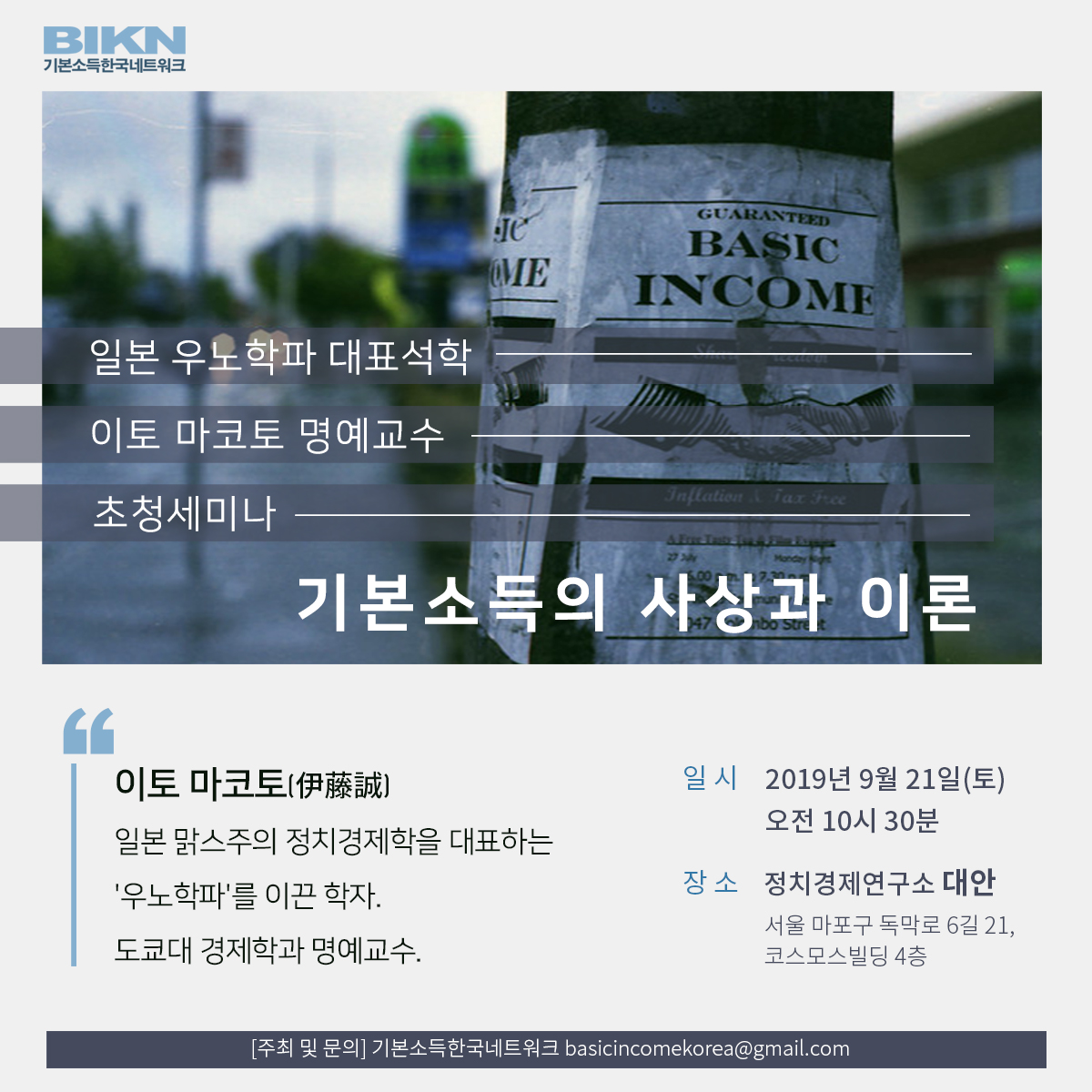 We, Basic Income Korean Network decided recently to host an event during the 12th IBIW. So I'd like you to know about our event.
We will host a seminar at 10:30 AM on Saturday, 21st September, whose title is the "Seminar with Emeritus Professor of Economics Makoto Itoh: Social Thoughts and Theories of Basic Income." Professor Itoh is a prominent scholar of Marxian political economy (the Uno School) in Japan. We hope this event could make UBI in favour with much more Marxists in South Korea. You can find more information about it below: https://basicincomekorea.org/event-news_190921_seminar-with-makoto-itoh/
Thanks.
Best regards,
Seonmi Park
Deputy secretary general of BIKN
일본 우노학파 대표석학
이토 마코토 명예교수 초청세미나
"기본소득의 사상과 이론"
일시: 2019년 9월 21일(토) 오전 10시 30분
장소: 정치경제연구소 대안
일본 맑스주의 정치경제학을 대표하는 '우노학파'를 이끈 학자이자 도쿄대 경제학과 명예교수인 이토 마코토(伊藤誠) 선생님을 초청하여 기본소득에 대한 이야기를 듣습니다. 좌파 경제학의 관점에서 기본소득의 정당성과 필요성을 살펴보는 자리가 될 것입니다. 많은 관심과 참여를 부탁드립니다.