Calendar


If you have an event in your region, please use the event-form to send it in:
https://basicincomeweek.org/event-form/
At the moment, there are 3 each one worldwide synchronized Basic Income Week actions and projects:
until Sunday 22nd September 2019 "Basic Income Week Campaign":
overlay your Facebook profile picture www.facebook.com/BasicIncomeWeek/posts/995055477506728/ or direct www.facebook.com/profilepicframes/?selected_overlay_id=666500437198081
at Friday 20th September 2019 "2nd International Basic Income Beer – [City/Location]":
Since 2018 a worldwide synchronized regular table every year on the Friday evening of the International Basic Income Week where the local basic income groups meet in as many places as possible worldwide in a relaxed atmosphere for food & drink in cafes, bars, pubs, restaurants, etc. to exchange, network and at the same time on the topic basic income Interested local information materials/flyer and give speech & answer.
This can be done from small mini basic income regular table in small villages with 3 people and a simple sign up to large basic income regular table (as a small mini basic income fair) with information tables, speeches, presentations, free food & drinks, live Music/Band, Social Media Greetings, Live Switch to basic income regular tables in other cities and countries.
It is also a good time to reactivate or re-establish basic income initiatives through basic income regular tables!
(Possibly change/translate the title in your language e.g. german "2. Internationaler BGE-Stammtisch – [Stadt/Region]".)
E.g.:
Berlin (Germany), "2. Internationaler BGE-Stammtisch – Berlin" www.facebook.com/events/727312807612798/ or www.grundeinkommenberlin.wordpress.com/infos/#2
at Saturday 26st September 2019 "Basic Income March – [City/Location]":
"The Basic Income March, led by Basic Income NYC, is set for September 26, 2019. It might be accompanied by Basic Income Marches in other cities on the same day." www.basicincome.org/news/2019/07/a-march-for-basic-income-will-take-place-in-new-york-city-september-21-2019/
due to time organizing the date is moved forward to 26thseptember, next your we hope to have a sychronized event within Basic Income Week
E.g.:
New York City (USA), www.facebook.com/events/2475965342623015/ or www.facebook.com/BasicIncomeMarch/ or www.basicincomemarch.com
Please simple set-up Facebook page Basic Income Week as co-host to your Facebook event and we will see and add your event to our Facebook page and list over here. https://www.facebook.com/events/310298613181576
Sep
18
Wed
Public Meeting on Money – Dublin (IE)

@ Carmelite Community Center
Sep 18 @ 19:00 – 21:00

We would like to welcome welcome you to an evening of discussions around money and monetary policies for supporting much-needed public programs including the Green New Deal and basic income.
Basic Income Ireland is proud to present this event as part of the International Basic Income Week. This is a free event.
Speakers
Deirdre de Burca: "The role of innovative monetary policies in supporting a Green New Deal and a more sustainable future for Europe and the world"
Deirdre is a former Green Party public representative and current Advocacy Co-ordinator with the global civil society network Forus International (forus-international.org).

Conor McCabe: "Towards a democratization of money, credit and financial systems"Conor is the author of Money (Sireacht: Longings for another Ireland series, Cork University Press, 2018) and a research associate with the UCD Equality Studies Centre. He has written extensively on Irish finance and is involved in activist education, working with political, trade union, and community groups.

Tony Weekes: "Let's make money work for everyone"Tony describes himself as "a repentant one-time academic economist".

Basic Income is the proposal that the state should make a regular payment to every individual resident regardless of circumstances, without any means test or work requirement. It would be enough to live a frugal but decent life without additional income.
To support Basic Income Week, make a photo with #countonbasicincome in it, and share it on September 18, using #countonbasicincome
For more about Basic Income Ireland, visit basicincome.ie, where you can sign up for our monthly newsletter.
Oct
26
Sat
Basic Income March – New York City

@ Grand Concourse
Oct 26 @ 13:00 – 16:00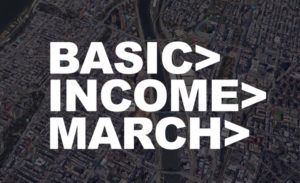 New Yorkers are organizing a march for Basic Income. Everyone who can get there is invited to join.
The 
Basic Income March
, led by 
Basic Income NYC
, is set for
September 21
october 19, 2019. It might be accompanied by Basic Income Marches in other cities on the same day. The march can receive donations that are 100% tax deductible through its sponsor, the 
Keith Institute
.
This march is one more sign of the rapid growth of the Basic Income movement. It's especially existing to those of use who where following the movement (such as it was) the 1990s when the presence of a half dozen Basic Income supporters in the same room felt like a novelty. Every year for the past ten years or so the growth of the Basic Income movement has surprised me, and only looking back did I realize that it had been growing in less obvious ways since the mid-80s.
Unfortunately for me, I can't march. I'll be out of the country when it happen, but I hope all my fellow Basic Income supporters in New York and maybe the whole USA can participate.
If you'd like to volunteer to help with the event,  
Basic Income NYC
 is having weekly planning meetings–in addition to their regular monthly Basic Income meet-ups. Contact them about getting involved in the planning either of the New York event or of the possible marches in other cities. More information about the Basic Income March is available at 
www.basicincomemarch.com
.